About the Program
Stormwater drain stencilling programs raise public awareness that all storm drains flow into our waterways and ocean.
Land-based run-off is recognised as one of the biggest dangers to the health of the Great Barrier Reef and one of the ways litter, detergents, chemicals and land run-off enter our waterways is through street gutters; polluting water quality and damaging our environment.
Douglas Shire Council with Plastic Free Douglas and with funding from Great Barrier Reef Marine Park Authority Reef Guardians program will run a series of community drain stencilling events in September/October this year.
We will ask school students and community members to join us in spray painting drains near them with stencils drawing attention to drains and to take care about what goes down them.
About the Storm Drain Art Contest
The purpose of this project is to provide opportunities for local artists to create works of art that can be turned into stencils and applied to storm drain lintels to contribute to public awareness of the connections between what we do on land and the health of our water and Reef.
Examples: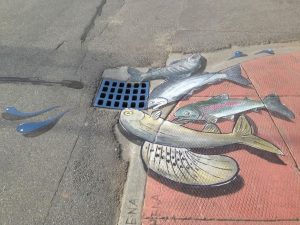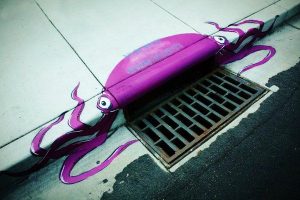 How it works
Local artists are invited to submit their design proposals to Council before close of business 31 August, 2018.
Artists can participate in either Under 18s or Open categories and may submit as many designs as they like.
Designs will be chosen for stencilling according to:
1. Fit with themes and messaging
2. Artistic merit
3. Public feedback
4. Locational fit – suitability for the drains chosen for painting
5. Practicality – artists are asked to remember that designs will be turned into stencils and painted by volunteers
Themes
Artists are asked to consider the following design themes for their stencil proposals:
Storm Water Pollution – litter, cigarette butts, pet waste, grass and green waste, detergents and chemicals
Fish, Wildlife, Habitat – birds, turtles, coral
Quality of Life – clean water, amenity, natural beauty, lifestyle
How do I enter?
1. Read the terms and conditions above
2. Send your design(s) to Douglas Shire Council
a. Email (jpg or pdf) to: CEOUnit@douglas.qld.gov.au
b. Hardcopy to Council Administration Building 64-66 Front Street Mossman or Port Douglas Service Hub, Mowbray Street, Port Douglas.
3. Include entry form with submission
Considerations for stencilling
Artists are reminded that their designs will need to be turned into stencils and to ensure their design will work as a stencil:
– Stencils are the inverse of drawings: we don't colour the lines, we colour the spaces between
– Stencils need to be cut out: they must have 'bridges' to 'islands' of blank space.

-The final image must have clean lines and good contrast. Anything too intricate or with delicate lines will not show well on the ground
– For stencil beginners https://www.wikihow.com/Make-Spray-Paint-Stencils