Douglas Shire Community Bus
A subsidised pre-booked Community Bus service currently operates across Douglas Shire, allowing community members greater access to local libraries, shopping, medical and community centres.
The service is a collaboration between TransitCare, Douglas Shire community service groups, and Douglas Shire Council.  The service operates Monday to Friday, and pre-registration is essential.
Registration – Intake Form
Customers of the Community Bus service must first register before they can make a booking for the service.  After you have completed the Intake Form, TransitCare will contact you to confirm your registration and assist you with the booking of your first trip.
REGISTER HERE
Zoning by location:
Community Bus zones are subject to change.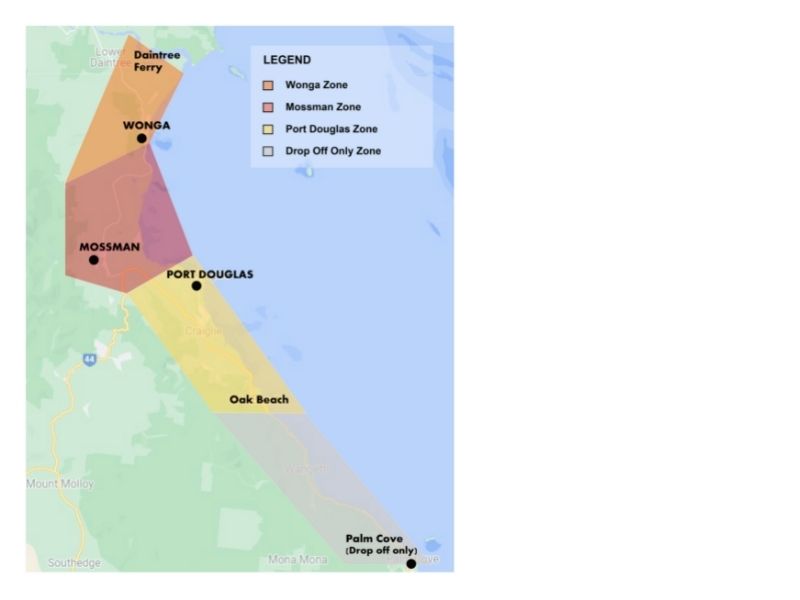 Fee Schedule:
Community Bus fees are subject to change. Refer to map below to see zoning by geographical region.
Travel within 1 zone:   $2.00
Travel within 2 zones: $7.00
Travel within 3 zones: $14.00
Travel within 4 zones: $21.00
Maximum travel distance of 49km (ie. Port Douglas to Daintree Ferry).
The service currently operate across 4 zones:
Wonga Zone – Includes the residential areas of Wonga Beach, Whyanbeel, and up to the Daintree River Crossing.
Mossman Zone – Includes the residential areas of Killaloe, Cassowary, Shannonvale, Cooya Beach, Mossman, Mossman Gorge, Newell Beach, Miallo and Rocky Point and , and up to the Wonga Beach zone.
Port Douglas Zone – includes residential areas of Oak Beach, Mowbray, Craiglie, Port Douglas, and up to the Mossman Zone.
Palm Cove Zone – An additional drop off zone stretching from Port Douglas to Palm Cove.  Return trips from this zone are negotiable depending on driver availability.
Pre registration Intake forms are also available from your local Douglas Library, closest community service organisation, or Douglas Council. Staff are on hand to assist you to fill out the form.
Mossman Library 4099 9496
Port Douglas Library 4099 9497
Mossman Community Centre 4098 2836
Port Douglas Neighbourhood Centre 4099 5518
Mossman Elders Justice Group 4098 3482
Bamanga Bubu Ngadimunku Aboriginal Corporation 4098 1305
Douglas Shire Council, Enquiries 4099 9444
Given remote locations included in the trial, pick up and drop off points may be established to ensure a feasible operation of the service.  The service is currently funded for persons between the ages of 18-64 years.  TransitCare has applied to the Department of Health for federal funding which will result in subsidised transport for those aged 65 and over. For now, registrations from those belonging in the senior cohort will be accepted as an expression of interest.
For further information about the service contact Alexandra Earl on 4099 9431 or alexandra.earl@douglas.qld.gov.au.