Douglas Shire Council is encouraging all aspiring and established gardeners, both young and old, to showcase their green thumb talent and enter the gardening competition.  Council would like to recognise local gardening enthusiasts with a dedicated garden awards program.
Entering the Awards
Entries will be available from 1 July to 25 August 2017 and can be submitted to Council via:
Email: enquiries@douglas.qld.gov.au
In person: Mossman Administration Building, 64-66 Front St, Mossman or Port Douglas Community Hall, Cr Mowbray and Mudlo St, Port Douglas
Judging
Judging will take place on 14-15 September 2017 depending on the weather and number of entrants.
The judging panel will consist of Mayor Julia Leu and two professional horticulturalists.
Categories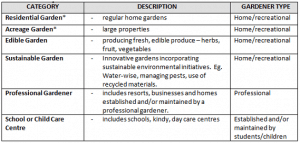 *Judges will determine whether the garden is residential or acreage.
Judging Criteria
Each garden will be judged on the following items:
Design and general layout – structure and layout of garden and plants.
Environmental initiatives – good gardening practices including water sustainability, managing pests, use of recycled materials, etc
Use of plants – balance, colour, native plants
Originality and creativity – uniqueness
Terms and Conditions
Entries, including a photograph, must be received by 4.30pm, 25 August 2017;
Entrants must reside in the Douglas Shire Local Government area;
Home garden entrants must not engage professional gardeners to maintain their gardens;
Commercial or school gardens can be constructed and/or maintained by a professional gardener;
Entrants agree to allow their garden to be photographed by a nominated person of Douglas Shire Council – subject to weather.  Photographs may be used for promotional material by Douglas Shire Council;
Entrants will be notified in advance of judging day and time and must be present for judges to enter their property;
Judges' decision is final and no correspondence will be entered into; and
Douglas Shire Council will not be held liable for any damage or injury suffered by you or a third party while participating in the Garden Competition
Sponsorship for Home Gardner Categories
If you are looking to 'grow' your community profile and would like to become a sponsor of the garden competition, please contact CEO Unit – enquiries@douglas.qld.gov.au
Please Note: Sponsorship is not put towards the prize for the winner of the 'professional' category.  The winner of the 'professional' category will receive a trophy to enhance their business profile.
Queries
Any queries can be directed to CEO Unit on (07) 4099 9444 or enquiries@douglas.qld.gov.au