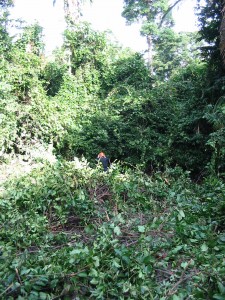 Douglas Shire Council is winning the war in protecting our World Heritage-listed rainforest from a highly destructive invasive weed.
Hiptage, commonly known as helicopter flower, is listed as one of the world's worst 100 invasive weed species, with the Mossman River catchment harbouring the only known infestation in North Queensland and the largest in Australia.
Once established, the impacts of Hiptage on the rainforest environment are severe as it dominates the canopy, smothering native vegetation.
The weight of dense canopy infestations is sufficient to cause large rainforest trees to fall over, often into adjoining trees which also then fall over, causing a domino effect.
Hiptage is unusual in that it will readily establish in shady, undisturbed rainforest communities. Seedlings then grow into the canopy where they become enormous vines with woody stems up to 300mm in diameter.
Douglas Shire Council Open Spaces Team Leader Peter Logan said there are approximately 77 separate Hiptage infestations in the Mossman River catchment but Council's efforts to control the damage has prevented the strangling weed from establishing itself within the boundaries of the World Heritage-listed rainforest.
"While it is uncertain, it appears as if Hiptage has been present in the Mossman area for a considerable time, possibly since the 1930s," Mr Logan said.
"Over the past decade, Council's control program – in partnership with the Queensland Parks and Wildlife Service, FNQROC, Biosecurity Queensland and Western Yalanji and Jabalbinna rangers – has led to a large reduction in the size of the Hiptage infestation and prevented it from establishing in World Heritage areas.
"Hiptage has proven to be a worthy and tenacious adversary that infests some of the most difficult and complicated weed control locations in the world but our efforts are being rewarded by the results.
"It is a very labour-intensive exercise, you physically have to get in there with chainsaws and heavy equipment to remove the massive vines across large areas in difficult terrain.
"But to date we are winning the war with our control program and we will continue to do all that we can to limit the damage caused by Hiptage and preserve our rainforest environments."