HIGH consumption and extreme heatwave conditions have forced level three water restrictions in Douglas Shire for the first time ever.
Recent storms provided a slight reprieve but not enough to counter the sharp drop in water levels this week.
Douglas Shire Council staff have observed water levels declining at the Rex Creek Intake about five times quicker than usual since the heatwave hit the region.
Douglas Shire Mayor Julia Leu said level four restrictions were imminent unless consumption was considerably decreased.
"It is dry, it is hot and no decent rain has been hitting our catchments," she said.
"This is unprecedented and Council is regrettably left with no choice but to impose stern restrictions after an extensive education campaign and strict patrols.
"We are still losing huge amounts of water in Port Douglas and Council will be working with our heavy water users to reduce their consumption in coming days."
"Everyone needs to curb their usage to the bare minimum because expert technical advice is suggesting more needs to be done.
"We know resorts and accommodation houses are our big users and encourage our water wise residents to continue tightening the taps as they have done in the past few weeks."
The Rex Creek Intake is now sitting at about 60mm – a sharp drop from 130mm on Monday morning.
At these levels, Council can only extract about 6ML of raw water that needs to be treated and pushed into reservoirs per day.
Current usage is about 12ML per day.
Mayor Leu said restrictions were for everyone's benefit to ensure a safe water supply for essential and everyday purposes.
"Help us save water by ditching the hoses and sprinklers because unless we receive significant rainfall, we will be in a dire situation," she said.
"Council has a responsibility to make sure there is enough safe water for locals and visitors and this means getting Douglas Shire to be more water wise than ever."
Level three water restrictions only allow watering from 6am to 7am and 6pm to 7pm on alternate days.
It also strictly prohibits using sprinklers and irrigation systems on gardens, while exemptions are invalid for this period.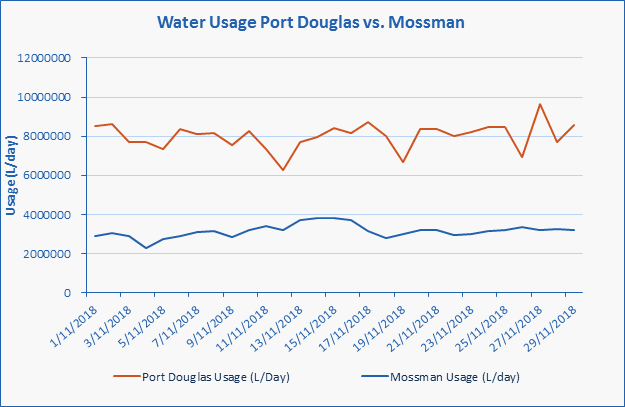 Douglas Water facts
Douglas Shire Council predicts about 60 per cent of water is used on lawns and gardens.
This equates to about 150ML per month.
Douglas Shire has the highest water consumption per capita out of all
Council areas in Far North Queensland, using about 1260 litres per capita per day.
For comparison, Cairns uses 418L and Townsville 860L per capita per day.
This places pressure on Council's water supplies and reinforces the need to have tighter restrictions in place.
Mossman

Port Douglas

August
September
October
November
August
September
October
November
2018 Total Rainfall (mm)

0

2

64

10.4

1

8

46

14

Historical Median (mm)

25.6

26
51.1
93.1
17.6
23.4
36.1

79.8
**Rainfall figures from the Bureau of Meteorology 
Level 3 Water Restrictions
Watering is ONLY allowed between 6am to 7am and 6pm to 7pm on alternate days.
"Alternate days" means your designated days of water use:
– NO watering is permitted on Mondays.
– ODD numbered properties can water on Wednesday, Friday & Sunday.
– EVEN numbered properties can water on Tuesday, Thursday & Saturday.
– Properties without a number can water on Wednesday, Friday & Sunday.
"Alternate days" shall mean designated days of water use.
On the spot fines (Penalty Infringement Notices) of $391 for Residential Customers and $1958 for Non-Residential Customers apply for non-compliance of restrictions.

Water saving tips
Turn off the tap when brushing your teeth or shaving
Install a 4-star dual-flush toilet – saves up to 8 litres of water every flush
Run a full load in a water efficient dishwaher
Rinse vegetables in a bowl and then use the water on your garden
Store drinking-water in the fridge (running the tap until it is cool wastes up to 15 litres a minute)
Divert greywater from your washing machine for immediate use on your garden (except vegetables)
Mulch your garden generously
Compost food scraps – compost enriches the soil by helping it absorb and hold more water
Check pools for leaks
Shade your pool to reduce evaporation
Install a rainwater tank to help reduce town water supply and your water bills
Replace old showerheads with water efficent models
Check all taps for water leaks
Install flow restrictors and aerators into taps around the house
Use a broom or blower to clean out garages, driveways or patios intstead of hose