Take the opportunity to clean up your yard and drop off your domestic green waste for FREE at Council's Transfer Stations from Saturday 10th November – Sunday 18th November 2018.
Killaloe Transfer Station is open Monday to Saturday from 8am to 5.30pm and on Sundays from 9am to 5.30pm.
Newell Beach Transfer Station is open on Mondays from 8am-11:45am, Wednesdays from 1pm-4:45pm and Fridays and Saturdays from 8am-11:45am.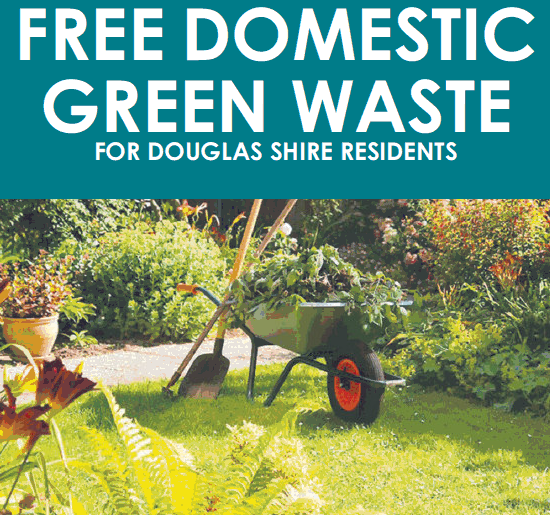 CONDITIONS:
Free green waste disposal is only available at Killaloe and Newell Beach Transfer Stations;
This offer is for domestic cars, utes and/or trailers and light trucks (vehicle weight to GVM 4 tonnes); and
If residents require assistance from a garden maintenance contactor to deliver green waste they must make a request and provide information (date, time of delivery) for approval, this can be done by emailing enquiries@douglas.qld.gov.au or calling Council on 4099 9444 and requesting to speak with Waste Services.
NOTE: Normal charges apply for disposal of any other waste. For enquiries regarding electric or crazy ant quarantine details please contact Department of Agriculture, Fisheries and Forestry (DAFF) on 13 25 23. Remember illegal dumping can incur a fine; it affects the environment and the safety of individuals. Please report any illegal dumping to 07 4099 9444