DOUGLAS Shire is in full swing for Seniors Month this October.  From cuppas, to craft, to movies, sports comps, dinner & dancing, and pool fun – there's a sensational line up of events for our most deserving citizens.
Unique to Queenslanders this October, Senior's month is being celebrated for the first time in 2021 and its all about the importance of connecting with one another.
During the month people of all ages, cultures and abilities will connect through inclusive events and activities to celebrate the important and essential roles older people play in our communities.
Celebrations kick off from Monday in Douglas Shire with the Council cuppa and chat!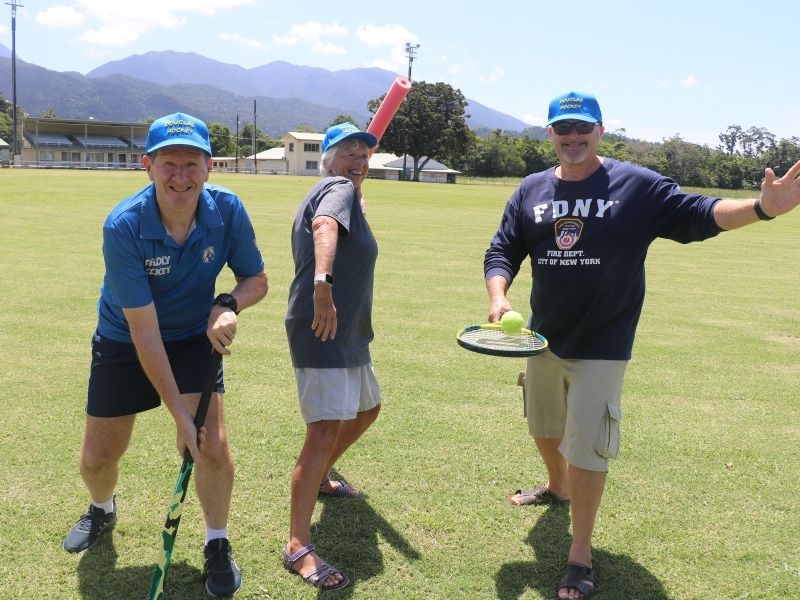 Greg Mill, Deborah Christopher, and John Christopher warming up for the Seniors Games on October 29 at the Mossman Showgrounds
Council Cuppa and Chat | Free Event
Monday October 11, Thornton's Beach Café Cape Tribulation & Thursday October 14, Temptations Café, Mossman | 9:30am – 10am
Douglas Shire Council is hosting a Council Cuppa and Chat at Thornton's Beach Café in Cape Tribulation and Temptations Café in Mossman.  Come along, enjoy a free morning tea, and meet the Councillors for an informal chat with a few laughs guaranteed.
For further information contact Paul Smyth on 4099 9444 | enquiries@douglas.qld.gov.au
Craft, Games & Puzzles at Mossman Library | Free Events
Wednesday October 13, 10am-12pm – Games & Puzzles
Friday October 22, 10am-12pm – Craft Morning
Wednesday October 27, 10am-12pm – Games & Puzzles
Who doesn't like to feel like a kid again! Mossman Library is hosting a series of events with craft, games and puzzles. Sessions are designed for the big kids, and having fun is top of the agenda.
Call Mossman library to book on 07 4099 9496.
Lunch with Friends in Cairns
Tuesday October 19, 8:30am-4:30pm
Pick up from Mossman and Port Douglas
Cost: $25 per person. Bookings essential
The Port Douglas Neighbourhood Centre is hosting a jam-packed Lunch with Friends Day on October 19 with transportation organised from both Port Douglas and Mossman.  Day trippers will head to Smithfield for a movie and lunch, followed by a ballroom dancing demonstration and afternoon tea at Manuda Ballroom. Spaces are limited and booking essential.
Call Port Douglas Neighbourhood Centre to book: 07 4099 5518
Port Douglas Pétanque | Free Event
Wednesday October 20, 3:45pm
Market Park, Port Douglas
Port Douglas Pétanque invites seniors to come along and enjoy a free friendly game! Boules will be available for loan and volunteers will be on hand to help with coaching. Bring along water, sunscreen, hat, a chair, and some refreshments for afterwards.  No bookings required.
Those were the years – Dinner with music from our outrageous youth
Thursday October 21, 6pm-10pm
Palmers Sea Reef Golf Club, Port Douglas
Cost: $45 per person (2 course meal – main & dessert). Bookings essential
Presented by U3A this will be a dinner like no other!  If you're over 50 and enjoy songs from Vera Lyn to ABBA, you'll love this night of music and laughter.
Contact Jo and Jeanie to book via email on coursecoord.u3adouglas@gmail.com
Make a Splash | Free Event
Saturday October 23, 10am
Mossman Pool
The new-look Mossman pool will host a special and FUN aquatic fitness session hosted by the legendary Helen.  Move, shake and laugh a lot before you work up an appetite to join Helen for morning tea after the class.
For further information contact Mossman Pool on 4098 2627
Day Out in Port Douglas
Tuesday October 26, 9:30am
Cost: $20 per person. Booking essential
For those preferring to keep it local, the Day Out in Port Douglas, presented by Mossman Support Services, is for you. Transportation will be organised for guests to travel from Mossman. The day will kick off with a special tour of the Douglas Shire Historical Society Museum followed by a delicious lunch at The Tin Shed where guests can sit back and enjoy the spectacular view of Dickson's Inlet.
Contact Mossman Support Services to book on 07 4098 2836.
Douglas Seniors Games 2021
Friday October 29, from 9:30am
Mossman Showgrounds
Cost: $5 per person. Bookings essential
Douglas Hockey Association will wrap up the epic program of events in fitting style with The Douglas Seniors Games 2021.  With healthy competition, fun games for all abilities, and prizes – this one is not to be missed. Head to the Mossman Showgrounds on Friday October 29 for full day of games and laughter complete with Sports Trivia to close the day. Morning tea and lunch are provided.
Contact Greg Mill to book on 0481 086 056 or info@douglashockey.org