Mossman Pool & Caravan Park on Park Street in Mossman is over 30 years old, and currently managed by Douglas Shire Council.
Council has reviewed the facility and has produced a concept masterplan as well as a proposed scope of works.
The aim of the project is to deliver a contemporary facility including an upgrade to the pool to Regional competition pool standards, and a Destination caravan park with potential as a revenue centre for Council.
July, 2020
In Council's 2021 Operational Plan we will undertake a feasibility study and detailed design to redevelop the Mossman Pool and Caravan Park. Our aim is by June 2021 we will have a shovel ready project to apply for funds to deliver a contemporary pool and leisure park in Mossman.
AUGUST, 2019
A concept master plan and scope of works were made available for public comment and feedback from the community. See the full plan, here. In brief, the proposal includes:
Upgrade pool to Regional competition pool standards, including drainage, starting blocks, timing equipment, etc.
Installation of new spectator seating.
New pool shade incorporating lighting to enable night time use.
Shaded dedicated learn to swim pool.
Upgraded kiosk, change room, gymnasium and residence building.
Upgraded ablutions block, including disabled access, in the Caravan Park.
Construction of a full-size tennis court.
Shaded playground and games area.
Camp kitchen and BBQ area (with tables and seating).
Additional permanent cabins in the Caravan Park.
New Health and Wellbeing Centre with including indoor therapy pool and spa, treatment/consultation rooms and meeting room.
JUNE, 2019
Council released the 2019-2020 Annual Budget, announcing it will spend $400,000 to complete a masterplan. Read full announcement, here.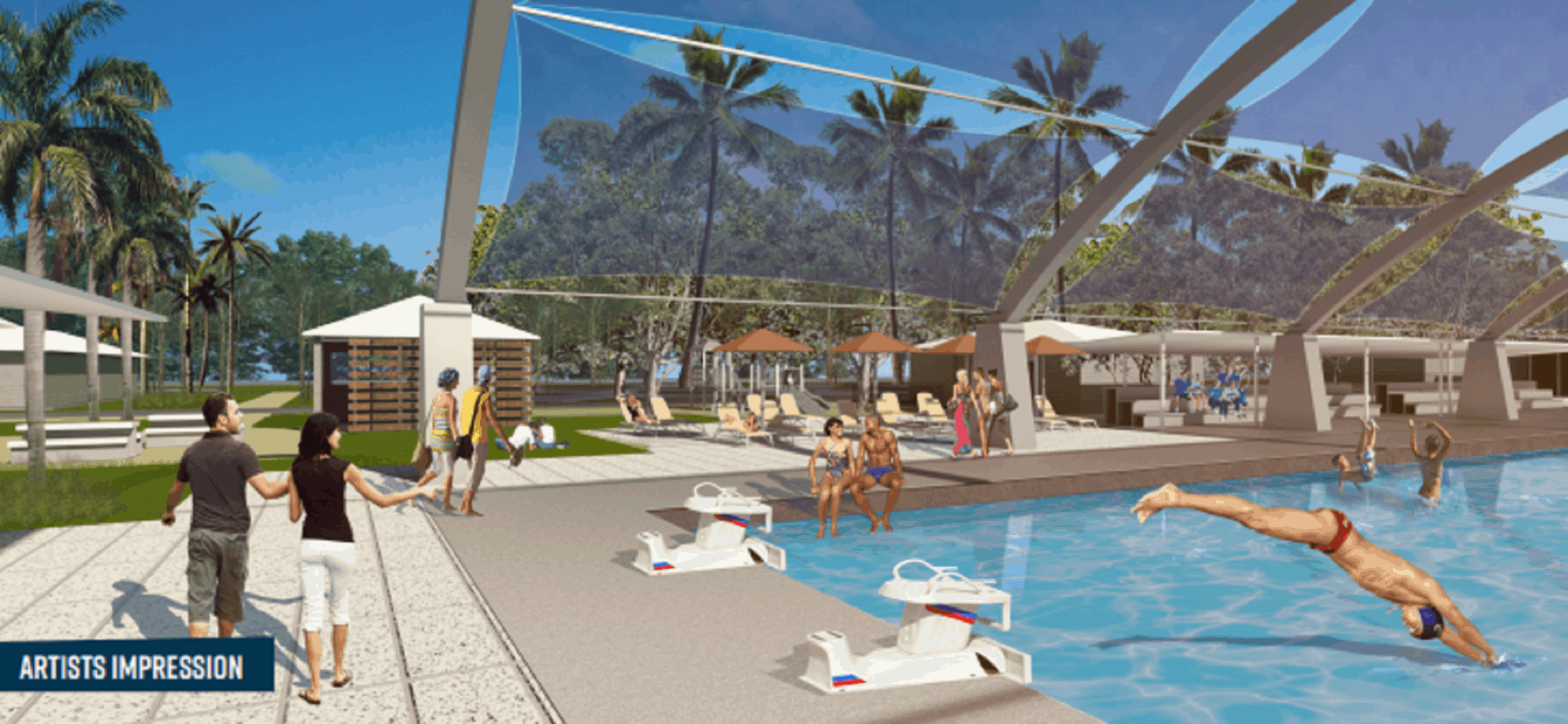 CLOSED
Round one of consultation has now closed, for any further feedback please contact Gaye Scott on 0418 793 009 or gaye.scott@douglas.qld.gov.au.
Future engagement will include:
Findings of Round One
Discussions with industry groups on the findings
Round Two public consultation for detailed planning
[CLICK HERE] to view details of past consultation