Douglas Shire Council has adopted new ticket prices at the Daintree River Ferry Crossing from 1 July 2021, ensuring operational costs are not funded by increases to general rates.
The change in ticket prices will see the cost for a single vehicle move to $23 for a one-way ticket, and $39 for a return trip.
Douglas Shire locals who renew their Daintree Ferry Concession Card before 30 June this year will pay $18 and be able to use that card for unlimited ferry travel until April 2023.
The new prices allow Council to cover the costs of the new contract and maintain an alternative revenue stream.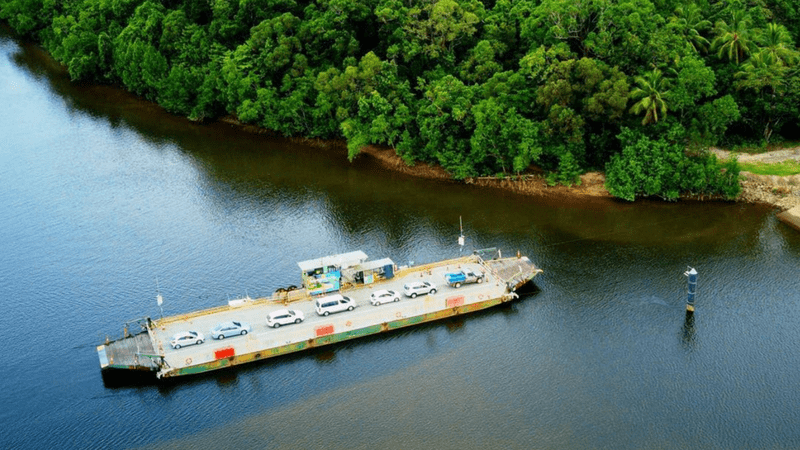 Douglas Shire Mayor Michael Kerr said the new fees more accurately represented the cost to Council to provide the service.
"The new price is consistent with our approach to user pay services and makes sure the costs aren't funded through increases to general rates," he said.
"During the public consultation, the preference for a ferry service was abundantly clear with most residents and ratepayers in favour of us using that service to provide revenue to Council.
"We also heard from a number of people in the community who were willing to see higher ticket prices if it meant maintaining a ferry service.
"Our area north of the Daintree River has spectacular natural beauty and we have no doubt tourists will be willing to pay a little bit extra to see this world-class attraction."
To fund the recent ferry purchase, Council is using a combination of funding from the Daintree Ferry Reserve and available funding in the capital works budget.
The Daintree Ferry reserve was established to fund operational costs and ongoing capital works associated with the provision of ferry services on the Daintree River.
The purchase will not be funded through increases to general rates.
Mayor Kerr has also approached the State Member for Cook, Cynthia Lui, to discuss exploring ways the State Government could provide financial assistance to support the ferry service feeding tourists into their national park.
Related stories:
A detailed breakdown of ticket prices is available below.
New prices from 1 July 2021:
USER
ONE WAY
RETURN
Motor Car & Utilities
$23
$39
Buses (1-10 seats)
$24
$42
Buses (11-20 seats)
$41
$81
Buses (21+ seats)
$66
$128
School Buses
$13
$20
Licenced Public Transport
$13
$23
Passengers, Bicycles & Pedestrians
$3
$4
Motor Bikes
$10
$17
Trailers
$9
$15
Machinery
$15
$25

Multi-Day Pass (5 x return car trips)

$77
New Prices for Douglas Shire locals from July 2021:
Concession Cards

 

*Unlimited ferry travel until April 2023

$23 per person

Visitor Tickets

Douglas Shire Council ratepayers and residents living north of the Daintree River who hold a current concessional card are entitled to purchase two (2) books of 55 tickets.

$23 per book

Special Concession Card (Machinery)

Douglas Shire Council ratepayers and residents living north of the Daintree River who hold a current concessional card are entitled to apply for the issue of special concession card for machinery.

$23 per person

Concession Cards

(Wujal Wujal and Cook Shires)

$52 per person