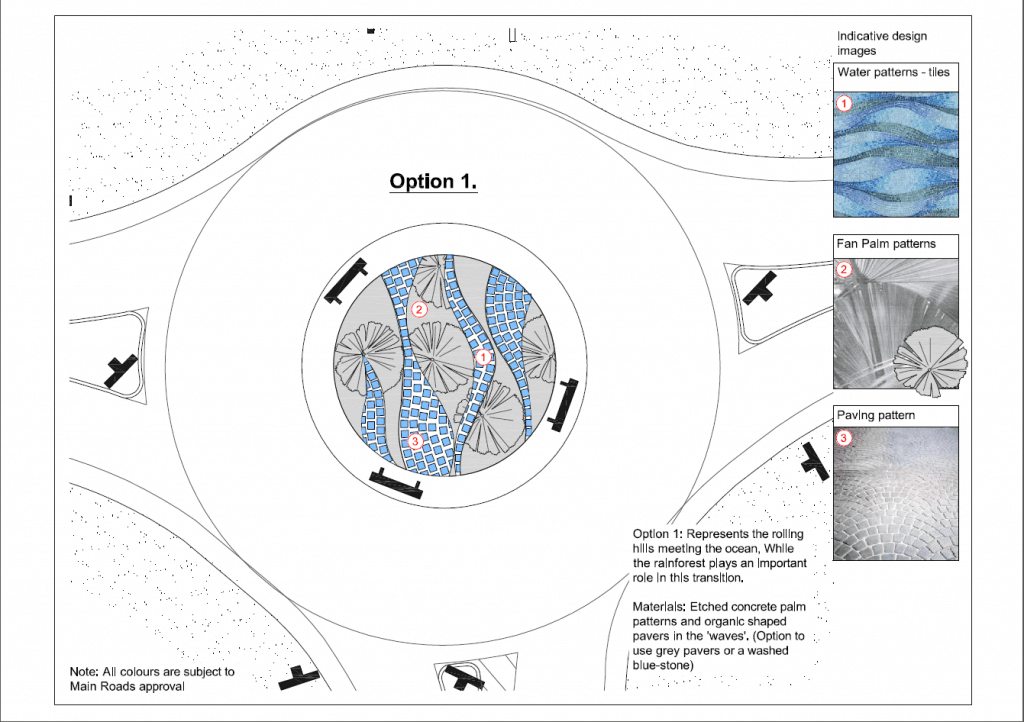 Option 1 has been endorsed as the preferred design for the Captain Cook Highway-Port Douglas Rd roundabout intersection.
Local firm Papillon Landscapes put forward three options for designs on the roundabout itself to complement the extensive landscaping works being carried out on the roundabout verges.
Only three responses that complied with the consultation process were received by Council, with the preferred option using tiles to depict "rolling hills meeting the ocean and incorporating the rainforest".
Very strict safety criteria issued by the Department of Transport and Main Roads did not allow for landscaping on the roundabout itself.
Mayor Julia Leu said the bright, colourful native vegetation being planted on the roundabout verges would create a flourishing entrance once they reach the flowering stage.
"The rich reds of the various Callistemon species and the striking yellow of the Xanthestomen Fairhill Gold plantings will provide a beautiful backdrop once they mature and attract birds and butterflies," Mayor Leu said.
"I understand there are some in the community who are disappointed that no vegetation is allowed on the roundabout itself due to the DTMR safety criteria.
 "But if you look at the project as I whole it will create a unique and very welcoming entrance to Port Douglas."
 A video detailing the progress on the roundabout landscaping is now available on Council's YouTube channel by clicking HERE.
RELATED LINKS
10 FEBRUARY 2015 COUNCIL REPORT