A MASSIVE aluminium roof has been installed on the new $13.5 million Port Douglas Water Supply Reservoir Project.
Douglas Shire Council's largest capital works project ever is entering its final months of construction at the Crees Road site in Craiglie.
Douglas Shire Council Mayor Julia Leu and fellow Councillors visited the 20ML reservoir site this week.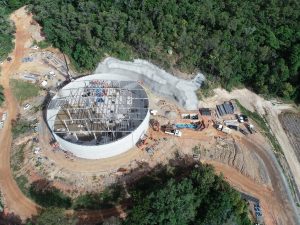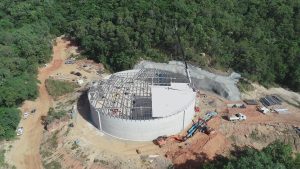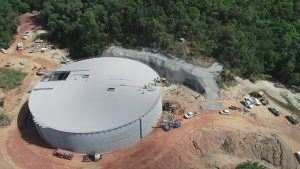 Mayor Leu said the 20ML reservoir was a game changer for Douglas Shire.
"This will reap huge rewards for our region," she said.
"It will help supply future residential and tourism development, while significantly bolstering the resilience of Douglas Shire when natural disaster strikes.
"This increased water storage will help us tap into increased sustainable growth and boost the resilience of our infrastructure."
VIEW DRONE FOOTAGE BELOW
PHOTOS BELOW
The aluminium roof, which covers about 2500-squared-metres, has a design life of 40 years.
Contractors will paint the inside wall in coming weeks to ensure its water proof before filling it with water for the final stage.
The reservoir is expected to be commissioned by September.
It comes as Council endorsed the 2018 Drinking Water Quality Management Plan at Tuesday's Ordinary Meeting.
The plan undergoes rigorous environmental assessment and lists how Council can improve the region's water supply.
"Water is essential to strong economic development," Mayor Leu said.
"This plan clearly shows Council is committed to achieving high standards of an adequate, reliable and compliant water supply in Douglas Shire."
The Port Douglas Reservoir Project is jointly funded by the Australian Government, Queensland Government and Douglas Shire Council.