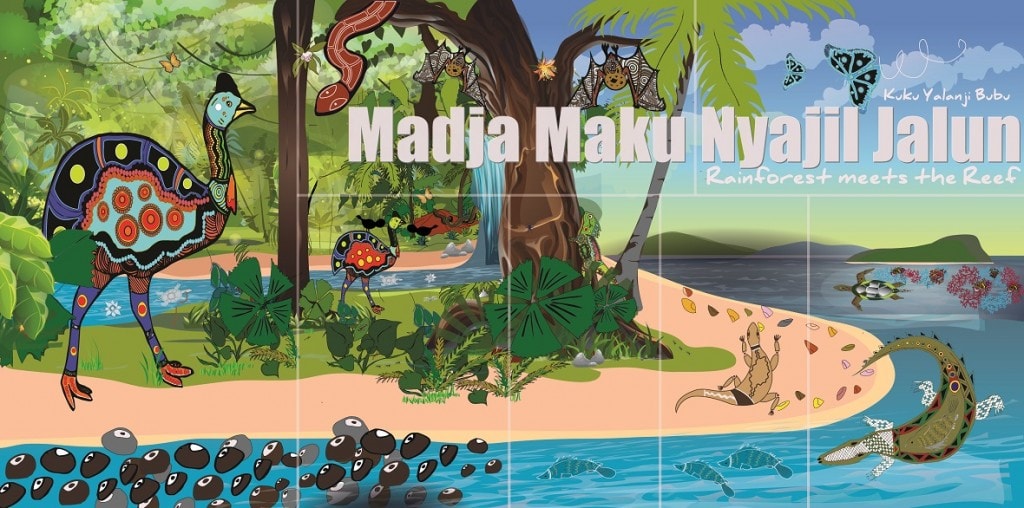 Yalanji art will feature on the Daintree Ferry.
Mayor Julia said Council is proud to have the opportunity to recognise the Traditional Owners, the Eastern Yalanji, in such a prominent project as the Daintree Gateway and Ferry Signage.
"This is the beginning of a much bigger picture regarding signage throughout the Shire and incorporating Yalanji Language and art. The statement sign at the turn off to the ferry will feature Yalanji Language with a statement of 'Welcome' from Yalanji Elders. The ferry wheel house will feature this fabulous art piece that was created by the collaborative of Yalanji artists" said Mayor Julia.
Yalanji artist Lenice Schonenberger said the project was a great opportunity to work with other artists, Loretta Pierce, Ronald Bamboo and graphic designer Leigh Harris.
"It was important to create a design that resembles the original idea of 'Madja Maku Nyajil Jalun', 'Where the Rainforest meets the Reef'. but incorporate Indigenous design and values. It has been a valuable experience working with Douglas Shire Council to showcase Indigenous artwork."
Council announced the stage one project in mid 2014 with extensive landscaping, a new amenities block, interpretative signage, feature sign at the Daintree ferry turn off and the new ferry artwork.
The project has progressed well with the majority of the planned landscaping completed and the amenities block opened for use.
"This is the first stage of the revitalisation of the Daintree Gateway area," Mayor Leu said.
"We intend on undertaking a number of stages over the coming financial years, creating a well serviced, statement area as the entry point to this iconic tourism destination."