LOCALS and tourists now have a new reason to visit Port Douglas with the spectacular Flagstaff Hill Walking Trail opened today.
The world class track is set to become a tourism masterstroke for Far North Queensland as an iconic must-do attraction in the resort town.
Douglas Shire Council Mayor Julia Leu said the trail features many picturesque vantage points, such as a breath-taking viewing platform that hovers over the Coral Sea.
"This trail provided never-before-seen views of Douglas Shire's most spectacular natural wonders," she said.
"It boasts magnificent views of the Coral Sea and Low Isles, all the way to Snapper Island and the Daintree Rainforest."
"Photographic hot spots are littered throughout the trail for visitors, who will catch a glimpse at Douglas Shire's unrivalled natural beauty from a historic vantage point."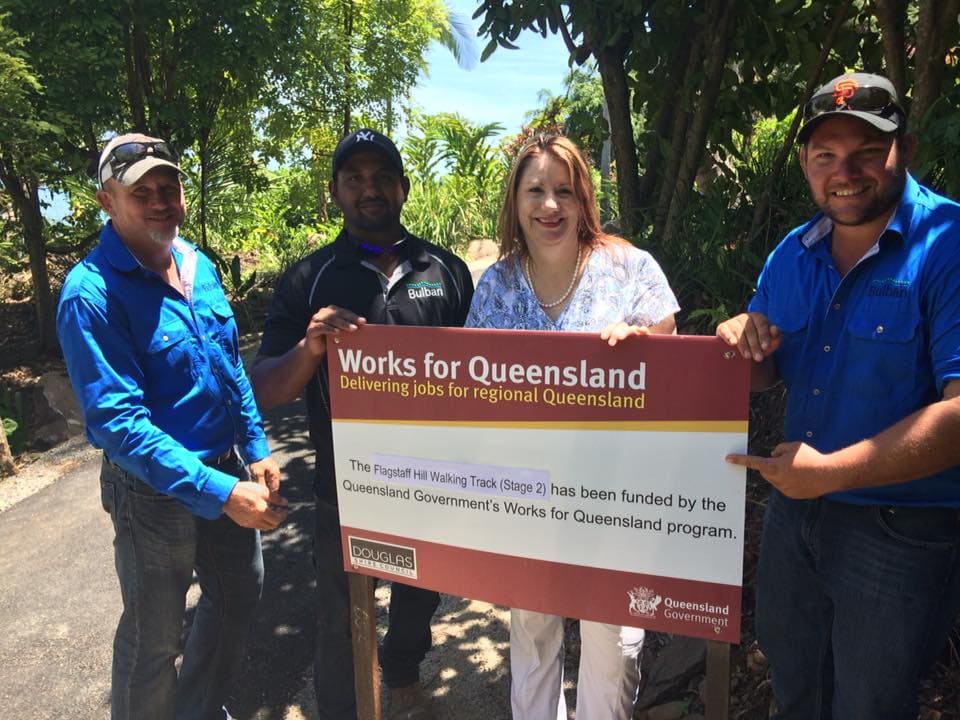 The newly constructed 1.5km trail provides a link between Four Mile Beach and Rex Smeal Park in Port Douglas.
The opening ceremony marks the completion of the $950,000 walking trail and start of public access on the track.
Stage two of the project created 16 jobs, including eight training opportunities.
Local indigenous company Bulban Enterprises and Eco Civil Solutions constructed the trail alongside Council.
World-renowned track builders World Trail constructed the gravel-based track from the existing stairs to the Flagstaff Hill lookout.
Mayor Leu said the track would be popular among locals spending the day at Port Douglas markets.
"While the Flagstaff Hill Walking Trail provides another incentive for visitors to come to Douglas Shire, it also mirrors the charm of popular suburban exercise routes, such as the Arrow walking tracks at Mt Whitfield Conservation Park in Cairns," Mayor Leu said.
"This will add another dimension to the town's lively buzz and lure people from surrounding areas."
Tourism Daintree and Port Douglas Executive Officer Tara Bennett said the trail would complete the Port Douglas experience.
"This fantastic trail will fill a gap we have for visitors who want a day of leisure in Port Douglas," she said.
"The scenic waterfront access adds to the wealth of experiences we have to offer in the region."
"This is a welcome boost for the Port Douglas tourism industry."
Douglas Shire visitor numbers were up between 2-5% last financial year, with about 110,000 international tourists setting foot in the region.
The State Government contributed $550,000 to the Flagstaff Hill Walking Trail under its Works for Queensland program.
Member for Cook Cynthia Lui welcomed the trail, which she said was an asset for both the local community and the region.
"Our government's Works for Queensland program is delivering jobs and economy-boosting infrastructure for regions across the state, with the first round estimated as creating or supporting around 5700 jobs, so it's great to see the Far North community among those reaping the benefits of this initiative," she said.
"I have no doubt this spectacular trail will be well-used by local families over their Christmas break as well as attracting visitors now and into the future."
CEREMONY DETAILS:
Date:  10 am Friday December 15, 2017
Venue:  Little Cove, Port Douglas (Off Wharf St)