Welcome to Fishing For the Future – We All Have A Part to Play
Our region offers a unique and diverse range of fishing experiences. From recreation to tourism to commercial, fishers make up an important part of our region's cultural and economic identity.  We all have an important responsibility to protect and nurture our precious marine ecosystem and work together to support our collective vision for an abundant and resilient local fishery.
Fishing in Douglas 
The Douglas shire offers fishers a wide range of fishing experiences from the blue waters of the Great Barrier Reef to the Rainforest rivers of the Wet Tropics. There are few places like Douglas shire that offer the diversity of fishing experiences and fish species fishers can experience in a single day. The closeness of the reef means a fisher can fish the blue water in the morning for gamefish, return by lunchtime to catch a barramundi in the estuary and fish the rainforest for jungle perch before the sun sets.
Culturally fishing is central to the connection between people and country for the Eastern Kuku Yalanjiwarra and Yirrgandji tribes. As the Traditional owners in the region, they continue to practice their lore and culture with respect to protecting their sea country ,and the fish and animals that inhabit it.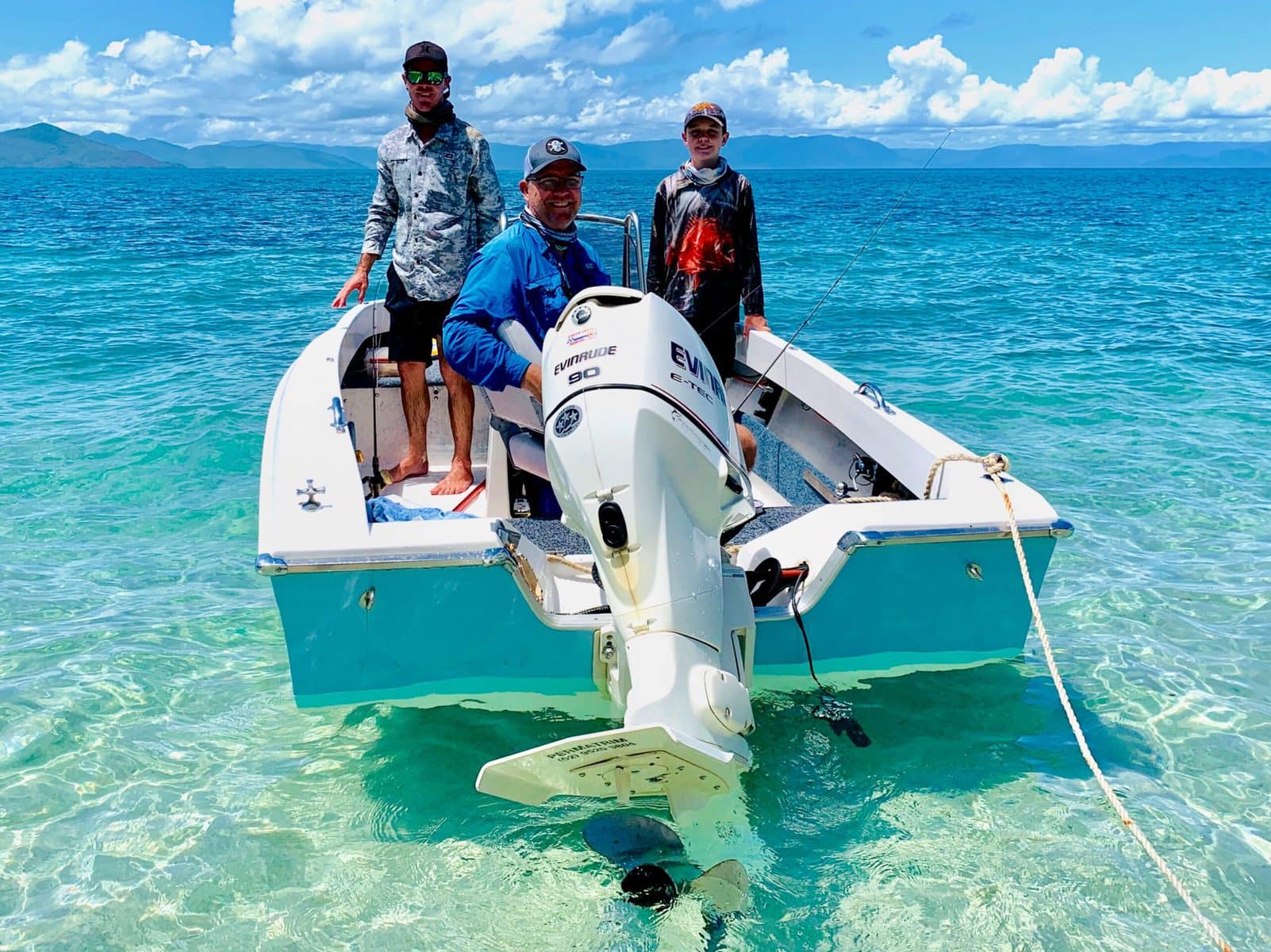 Fish For The Future – A Douglas Shire Sustainability Action Plan 
Douglas Shire Council is a Reef Guardian Council – together with 18 other Council's across Queensland we are working together to protect and conserve the Marine Park through activities that improve the health and resilience of the Reef. Read More here.
The management of fisheries in Queensland is the responsibility of Fisheries Queensland which is part of the Queensland Government's Department of Agriculture and Fisheries. Initiatives being implemented under the Queensland Sustainable Fisheries Strategy (2017-2027) are recognised as an improvement on past fisheries management and central to achieving the long-term goal of a sustainable fishing future for Queensland.
While the Douglas Shire community has welcomed this Strategy, the recreational, charter and Indigenous fishing community has long expressed concerns about the sustainability of the inshore fishery resources. The community would like to support the goal of sustainable fisheries for Queensland by becoming active participants in management and resource allocation decisions in Douglas Shire.
This Action Plan provides a framework for the community to plan their fishing future on their terms. It prioritises supporting community and cultural values, resource stewardship and the development of economic opportunities. 
Fishing Best Practise
Everyone has a role to play, everyone can find something to change.  Play your part to protect our marine eco-system and future fishers by employing fishing best practise every time you drop a line:
Avoid anchoring on coral – anchor in sand, mud or rubble where possible and always avoid no-anchoring areas.
Take only what you need
Do not use pest or non-native fish for bait. Never release introduced species into the water
If you're unsure of the fish identity or size, release the fish immediately
Return all under-sized and unwanted fish quickly to minimise injury
If you're keeping the fish kill it humanely and as quickly as possible
Clean up all fishing gear and dispose correctly
Take food scraps home – throwing food overboard disrupts the Reef's natural food web
Marine Park Zoning Information
Zoning helps protect important fish breeding and nursery habitats such as seagrasses, mangroves and shoals.  Non-compliance of zoning rules can have serious environmental impacts and can compromise the health of the Reef. Significant penalties will apply if Reef users break the rules.
Access zoning maps on a smartphone or tablet by downloading the free Eye on the Reef app
Pick up a copy of the free zoning maps at your local bait and tackle shops, boating suppliers, marinas, visitor information centres, Queensland Parks and Wildlife Service and Queensland Boating and Fisheries offices (available at most centres)
Zoning information is also available on some GPS units and chart plotters
Contact the Great Barrier Reef Marine Park Authority by calling 1800 990 177 and have a free zoning map posted
Fishing For the Future with Kids Day – Mossman Boat & Fishing Club, September 12 2021
Teaching the next generation of local anglers how to jag a catch while keeping our fisheries thriving. Local families attended the Fishing For the Future with Kids day on Sunday 12 September at the Mossman Boat and Fishing Club on Newell Beach for a day of fishing, games, prizes, guest speakers and a BBQ.
Douglas Shire Council and the Douglas Local Marine Advisory Committee (LMAC) organised the event to educate children about the importance of sustainable fishing through a fun day of activities and responsible fishing.
Call the 24-hour Fishwatch Hotline 1800 017 116 (toll free within Queensland)
The Promotion of Sustainable Fishing Practices in Douglas is funded by the partnership between the Australian Government's Reef Trust  and Great Barrier Reef Foundation with Support from Douglas Local Marine Advisory Committee and Douglas Shire Council.