A GRAND vision to build Australia's first chemical-free public swimming hole next to Four Mile Beach in Port Douglas has been unveiled by Douglas Shire Council.
World-renowned landscape designer Phillip Johnson, who won 'Best in Show' at the 2013 RHS Chelsea Flower Show in London, was in town last week to deliver the visionary design.
An artists' impression reveals a large freshwater swimming area for adults and kids, cascading waterfalls, boardwalk, large natural boulders and a variety of native vegetation.
Council has earmarked land around the Port Douglas Life Saving Club for the project, which would be the first public crocodile and stinger free-swimming area for the town.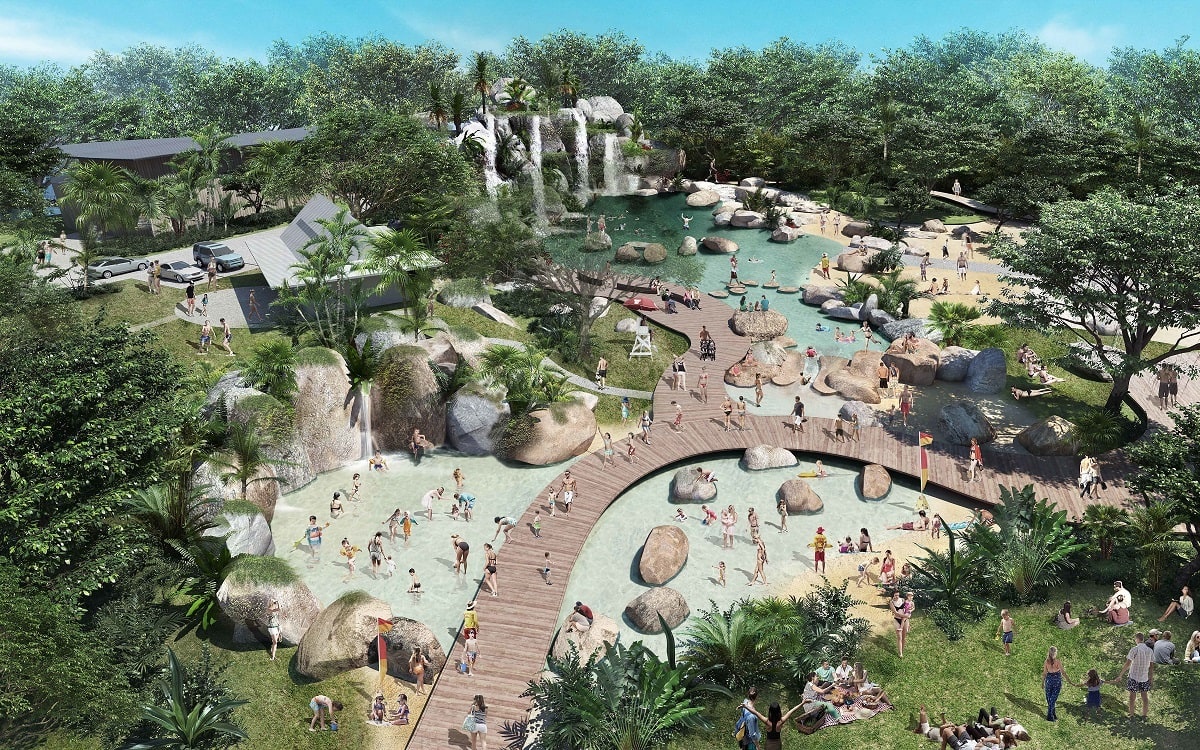 Douglas Shire Mayor Julia Leu said the lagoon would be a once in a generation project.
"This is a really exciting vision for the future," she said.
"We have been absolutely blown away by Phillip's enthusiasm and zest for mimicking our unique tropical landscape in this initial design.
"We are excited, the Port Douglas Surf Club is excited and now, by unveiling this vision for the future, we can continue the conversation with the community about what this project should look like.
"It is still early days and we have a lot of work to do with public consultation, studies and planning, but presenting this vision is a way to get the ball rolling."
Public consultation will kick off later this year to gather the community's thoughts on the vision and work together to deliver a concept design.
Feedback on the vision is welcome now via Council's website, where residents are encouraged to register for project updates and to be advised of further engagement opportunities.
Formal public consultation will kick off once the economic report has been completed which is anticipated to be later this year.
Workshops will be held to gather the community's thoughts on the concept plan and this will be considered at the preliminary design stage.
Input will also be sought on the preliminary design before going to detailed design.
Mayor Leu, Chief Executive Officer Mark Stoermer and designer Phillip Johnson presented the vision to the Port Douglas Surf Club last week.
Port Douglas Surf Lifesaving Club President Stephen Pollard said the club's committee unanimously voted to support the project.
"The committee were very impressed by the proposed plans, which would bring about major changes to the club precinct," he said.
"There are obvious benefits to the club in the redesign of the existing format and the project would be good for the Douglas Shire by providing significant enhancement to the park area and providing a facility that can be enjoyed by the public all year round.
"The project will provide a safe environment for our nippers to train during the stinger season and when the beach is closed.
"It will also provide employment opportunity for those members of the club who qualify as lifeguards.
"Hopefully the project will increase membership of the club and retain our patrolling members.
"The club committee members were impressed with all aspects of the proposal and are looking forward to working with the Douglas Shire Council in the future to see the project become a reality."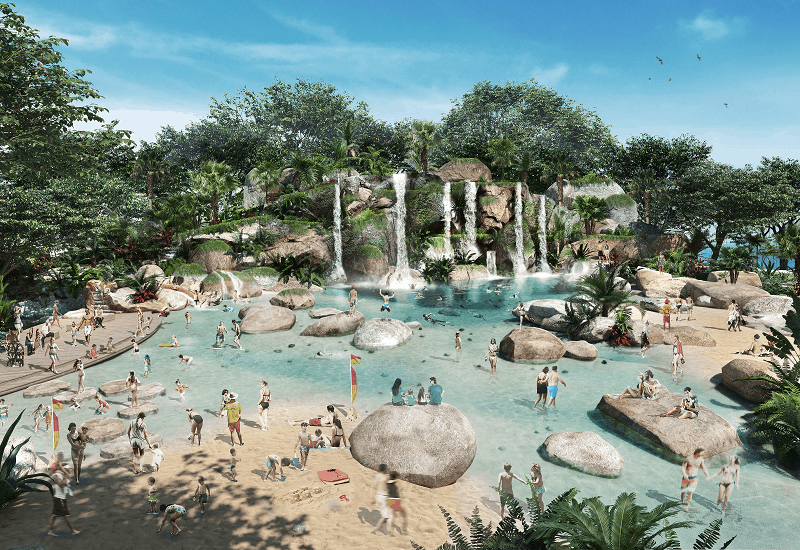 Mr Johnson said the breath-taking local natural environment inspired the vision.
"Douglas Shire is defined by its pristine natural beauty and I explored many spectacular natural streams and waterfalls, such as the Mossman Gorge, to pull this vision together," he said
"We like to work with nature, not against it, and are determined to bring that connection to nature and energy into the heart of Port Douglas.
"We are talking about a stinger and crocodile-free public natural swimming hole that re-activates Port Douglas and gives people a reason to visit the town every month of the year."
The idea of building a lagoon was first floated formally during community engagement for the Port Douglas Waterfront Masterplan, which began in 2005.
Progress on the project slowed when Council amalgamated with Cairns Regional Council and then de-amalgamated in 2014.
The Masterplan identified Rex Smeal Park and Port Douglas Life Saving Club as possible sites for the lagoon.
Mayor Leu said the timing was right to put the project back on the table.
"The surf club is the preferred option because it gives us the best chance to make this happen," she said.
"With construction on the Mowbray North section of the Wangetti Trail about to start and Crystalbrook Collection committed to the marina precinct, now is the perfect time to put this really exciting vision out there.
"I encourage everyone to sign up for project updates and stay tuned for opportunities to work with us."
Feedback on the vision is welcome now via Council's website, where residents are encouraged to register for project updates and to be advised of further engagement opportunities.
Concept design workshops:
Council will announce dates for public consultation later this year.
December 2005 – Douglas Shire Council approves proposal to prepare a masterplan for the Port Douglas Waterfront.
February 2007 – Community engagement to develop the masterplan starts.
August 2007 – Draft Masterplan report presented to Douglas Shire Council.
November 2009 – Master Plan adopted by Cairns Regional Council.
August 2011 – Cairns Regional Council endorsed a lagoon pool for Port Douglas at a future parkland area between Sugar Wharf and the Combined Club.
January 2014 – Douglas Shire Council de-amalgamated with Cairns Regional Council.
June 2018 – Douglas Shire Council announces it will investigate building a kids' splash park in Port Douglas.
August 2019 – Splash Park transforms into visionary waterhole on Four Mile Beach
What is a chemical-free swimming pool?
Chemical-free swimming pools are designed to use naturally occurring filtration systems for clear swimming water.
The first natural swimming pools were built almost 30 years ago in Germany.
They use aquatic plants and river stones to regulate water quality.
Water also passes through custom filters to deal with algae and other organisms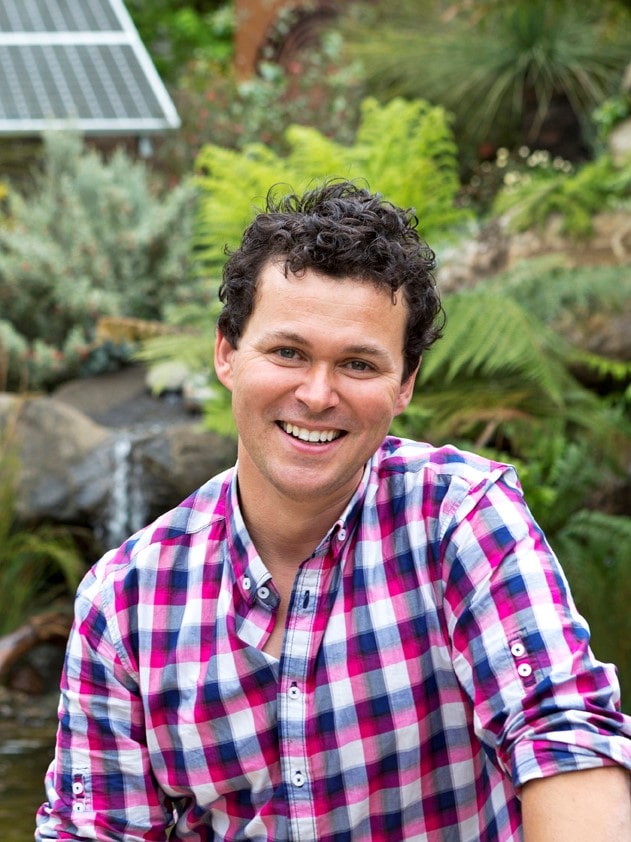 Multi-award winning landscape designer.

2009 – Gold Medal at Melbourne International Flower & Garden Show
2010 – Premier's Sustainability Awards (Victoria)
2013 – Chelsea Flower Show
A full list of Phillip's awards can be, here.
Designs and builds innovative and sustainable landscapes, as well as natural pools that celebrate Australia's natural beauty.
Has built many private natural swimming pools in Australia.