TENS of thousands of decorative fairy lights will illuminate the main street of Port Douglas when the switch is officially flicked for the Light Up Port project tomorrow night.
Douglas Shire Mayor Julia Leu and Douglas Chamber of Commerce President Liz Ross will officially illuminate nine trees in Macrossan Street at 7pm tomorrow.
The lighting project features 28,000 globes and about 2.4km of cables.
Mayor Leu is calling on people to go to Macrossan Street to see the lights turned on.
"Come to one of our fantastic restaurants or bars, have a drink, get some dinner and enjoy the street shining bright for the first time," she said.
"We expect this project to bring a more vibrant nightlife and add to the town's lively buzz.
"We want to make sure that when people are strolling down our beautiful Macrossan Street, they are taking photos and telling the world how amazing Port Douglas is."
#LightUpPort
Council is encouraging people to use #LightUpPort when they take photos and post them to social media in a bid to promote the resort town.
Decorative Lighting & Display Ltd worked with local company Bellero Electrical Services to deliver the project.
Bore drilling contractors were also used to install irrigation and electrical cables.
"It is fantastic to see a local electrical company leave their mark on this project and Council would like to thank all of our amazing suppliers and contractors for their hard work during this project," Mayor Leu said.
"I am also pleased to announce that the lighting project will be extended with coloured lights planned for installation in Mossman and further work expected in Port Douglas."
Macrossan Street improvements including lighting, more colourful garden beds and improved footpaths were raised in the Macrossan St Survey completed earlier this year.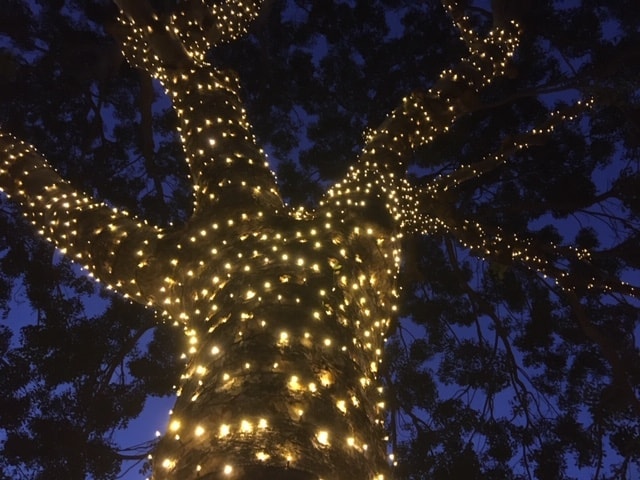 Adding to the visitor experience
Tourism Port Douglas Daintree Chief Executive Officer Tara Bennett said the new lights would add value to the town's visitor experience.
"Port Douglas has a buzzing bar and restaurant scene that our visitors love," she said.
"This project aims to add to their experience and leave them more satisfied with their Port Douglas holiday."
Council has now engaged Hortulus Australia Pty Ltd to develop new landscaping concept options to replace four stone pitch garden beds in the centre of Macrossan Street, located between Wharf St and the Port Village Shopping Centre.
The concept and detailed design phase will extend through until mid-November 2019.
Ambience tipped to have "tremendous" impact on business community
Douglas Chamber of Commerce President Liz Ross said the Chamber was extremely pleased to see the project come to fruition.
"It has been a while in the making but the result will be well worth the wait for visitors, locals and more importantly, business," she said.
"The ambience will have a tremendous impact for the business community and to know that there are new landscaping ideas emanating from a local business who has a great reputation for quality work and ideas will only further add to the improvements.
"Also knowing that lights will be added to Mossman main street is also good to see and we are really pleased both areas are being refreshed and updated, especially also those familiar with Instagram."