Your Douglas Shire Council crews have been busy in the past few days.
Port Douglas
Regular grounds maintenance, amenities maintenance and street cleaning.
Continue garden upgrades in Macrossan Street, Wharf/Warner Streets intersection and Esplanade.
Repair damaged bollards in Market Park.
Replace old-style street litter bins in Grant Street.
Sand and stain memorial benches in Jalumbu and Bruno Reidwig Parks.
Contractors – Davidson Street W4Q footpaths construction 95% complete.
Warner Street:
Installation of in-situ pits on Warner St
preparation of sub-base for kerb and channel
Install new street litter bin behind Coles.
North of Daintree River
Grading of Cape Tribulation/Bloomfield Road.
General sign maintenance, guidepost maintenance, Cape Tribulation side roads vegetation, signs and drains.
Cape Tribulation road shoulders and pipe heads.
General maintenance in Diwan
Sweeper – routine cleaning.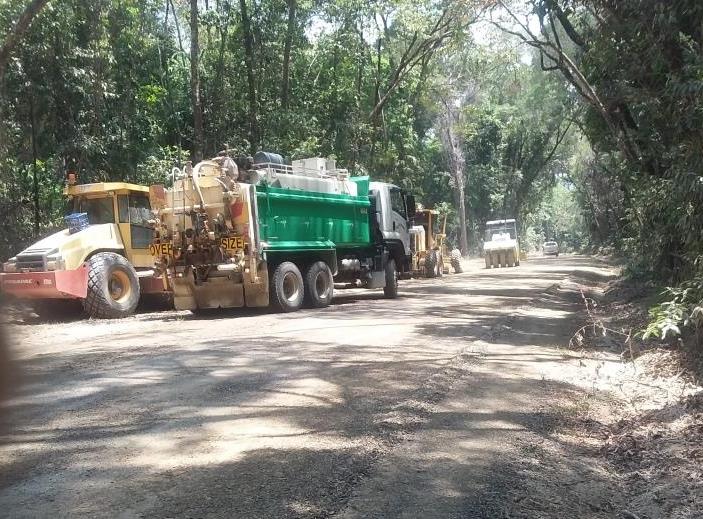 Mossman
Tender released for the refurbishment and replacement of various kids playground infrastructure across multiple parks between Cape Tribulation and Port Douglas.
The project will be awarded in the New Year with construction to be completed by mid-next year.
Amenities Crew scrubbing all urinals Mossman to Daintree Township and cleaning bins.
Concentrating on Johnston Road and Front Street gardens.
Beaches Crew will be rotary hoeing all playground soft fall and carrying out irrigation repairs.
Bollards are to be replaced in foreshore areas (Cooya and Newell) to prevent vehicle access to the beaches.
New park bench to be installed in Mossman cemetery.
Contractors have started coconut de-nutting in the Shire.
Biosecurity update
Revegetation works were conducted on a small catchment creek leading into Saltwater Creek as part of the Cassowary and Saltwater Creek Project (picture above).
Focusing on Pond Apple in the upper Barratt's Creek catchment for the next month.
Contractors are continuing to treat Hiptage on the Hiptage Eradication Project in Tara Hills near Mossman Gorge.
Feral animal controller will continue to target feral pigs north of the Daintree River
Wonga Beach catchment drains will be treated as part of the annual water weeds program.
Weeds that are being targeted are:
Salvina
Water Lettuce
Hymenachne