CREATIVITY will continue to flourish in Douglas Shire after Council successfully fetched funding to splash on local art projects.
The Queensland Government has granted $30,000 through the 2018-19 Regional Arts Development Fund (RADF), which has been added to by Council with $15,000 when applications open early next year.
Douglas Shire Council Mayor Julia Leu said the program helps give the diverse local arts community a platform.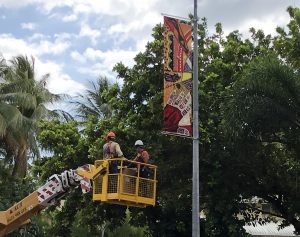 "Douglas Shire has a really vibrant art scene," she said.
"The quality and diversity of our local arts community is amazing.
"Douglas Shire art is really starting to flourish – from the literary brilliance of Mossman author Bill Wilkie to the culturally rich Yalanji artists – there is a real sense community pride starting to emerge."
Indigenous artists Linda Burchill, Sheryl Burchill, Delissa Walker and Daphne Naden have their Indigenous artworks featured on banners on Front Street in Mossman and Davidson Street in Port Douglas.
An environmental art event 'Call of The Running Tide' is also being developed through workshops and community activities.
Both the projects were funded under a previous RADF program.
Queensland Arts Minister Leanne Enoch said investing in creative and cultural experiences through the Regional Arts Development Fund (RADF) strengthened regional communities, boosted cultural tourism, and enhanced the quality of life in rural and remote towns and cities.
"RADF is a unique partnership between the Queensland Government and Douglas Shire Council to support local talent, unite communities and celebrate the arts across the state," she said.
"The Queensland Government, through Arts Queensland, is contributing $2.08 million in 2018-19 in partnership with 58 councils state-wide to help deliver cultural experiences which align with local priorities."