THE founder of a breast cancer support group in Douglas Shire is our Citizen of the Year.
Douglas Shire Mayor Michael Kerr awarded the prestigious honour to Maria Atkinson, a dedicated volunteer who helps local women feel less isolated during their breast cancer journey, at today's Australia Day Awards ceremony in Port Douglas.
Maria is the founder of 'Pink in the Tropics' (PITT) and helps those people with cancer with cleaning, cooking, and help that is needed. She also organises countless fundraising events and helps people get to their various appointments at the Mossman Hospital.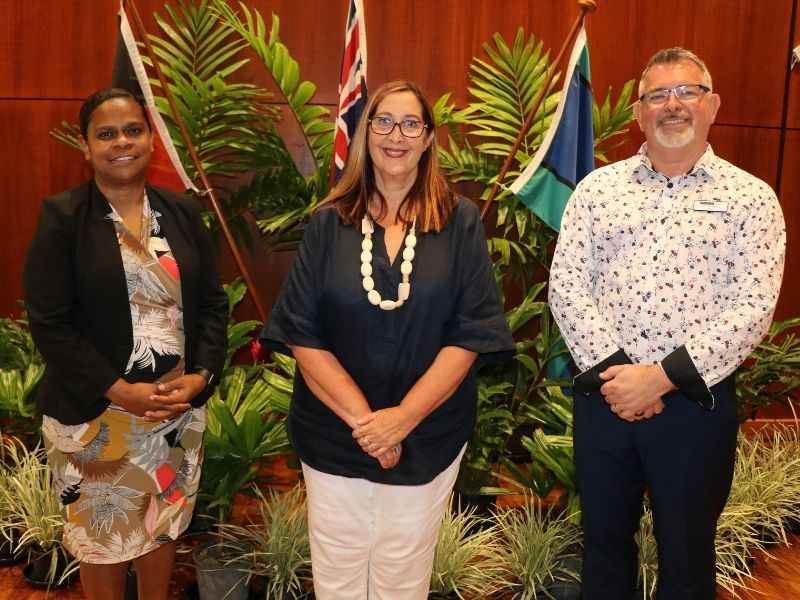 Mayor Kerr said Maria's contribution to the local community was outstanding.
"Most people have been impacted by cancer is some way, shape or form, and can appreciate how vital the selfless work done by people like Maria is to a successful recovery," he said.
"Maria has supported many families in our community, becoming a vital part of the healing process for women with breast cancer.
"Maria is an outstanding member of our community and truly deserving recipient of the Citizen of the Year."
PITT was formed in 2008 by four local women, all diagnosed with breast cancer, who banded together to support one another.
Maria was one of eight award winners announced at today's ceremony.
Other award winners include:
Junior Sports – Couper Smith
Senior Sports – Jack Murday
Environmental Achievement – Alyssa Jackson and Caitlin O'Neal
Arts and Culture – Rose Watts
Volunteer of the Year – Craig Mitchell
Young Citizen of the Year – Angela Brischetto
Civic Recognition Award – Noel Weare
Mayor Kerr said every nominee should be proud of their work.
"Just to be nominated is a fantastic achievement in itself," he said.
"I am so proud of all of our winners, from local rugby star Jack Murday, to dancing role model Angela Brischetto – we are very lucky to have such talent in the Douglas Shire."
Local Labor member for Cook, Cynthia Lui attended the ceremony and offered her congratulations to all nominees and winners.
See the full list of award winners below!
Junior Sports Award
Couper Smith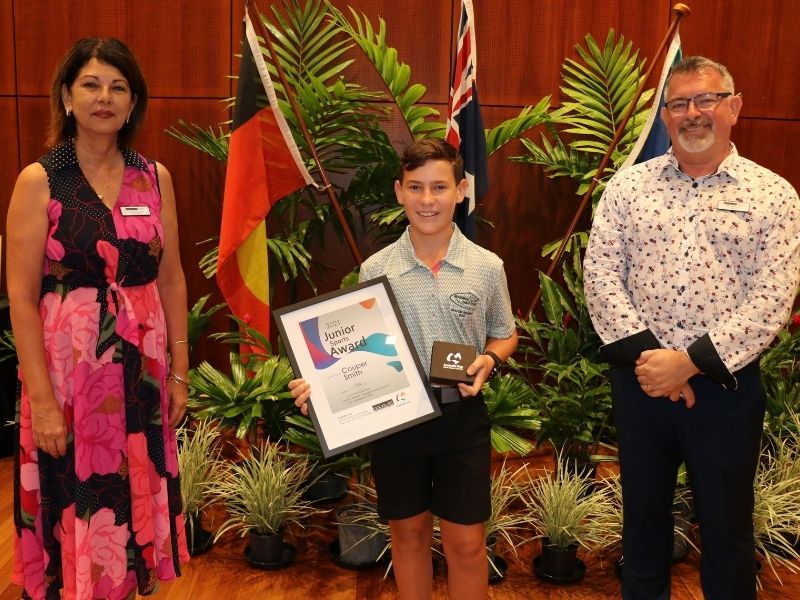 Couper has been a consistent advocate for the Douglas Shire and the Mossman Golf Club's junior golfing program. He has represented the region overseas in the U.S.A and New Zealand. Couper also represented the School Peninsula side and maintained his entry in the Greg Norman Classic. Couper has represented his Club and community to the highest level of integrity, professionalism, and commitment on the sporting stage.
Senior Sports Award
Jack Murday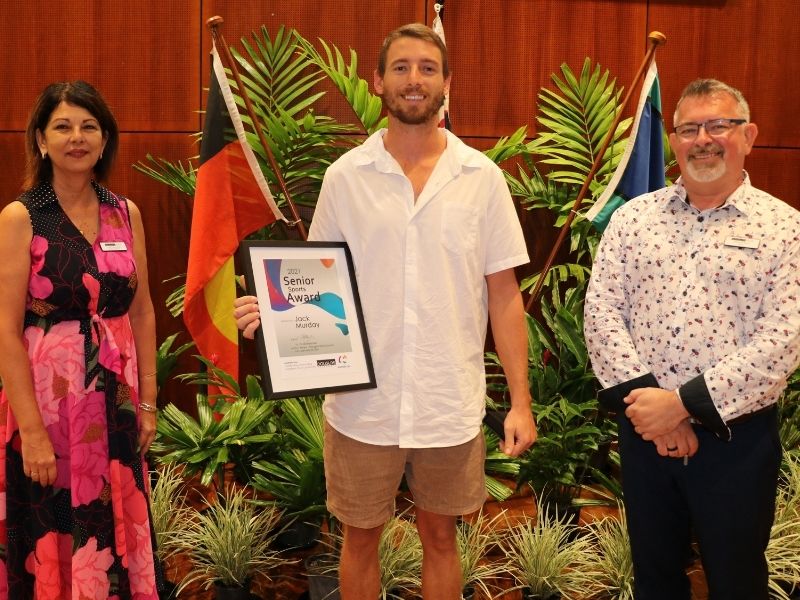 Jack has been an integral part of the Port Douglas Union Club for many years. Last year, Jack captained the club's premiership-winning side, showing grace and humility throughout the season.
Jack won the Port Douglas Ruby Union Best and Fairest Player of the season, as well as the FNQ Rugby Best and Fairest Award.
In the past few years, Jack has helped overseas players secure housing and jobs enabling them to stay local and play for the club. Jack is also an active volunteer on game days, training and working bees. He has played a pivotal role in the growth of the club and is celebrated as a terrific role model and club ambassador.
Environmental Achievement Award
Alyssa Jackson & Caitlin O'Neal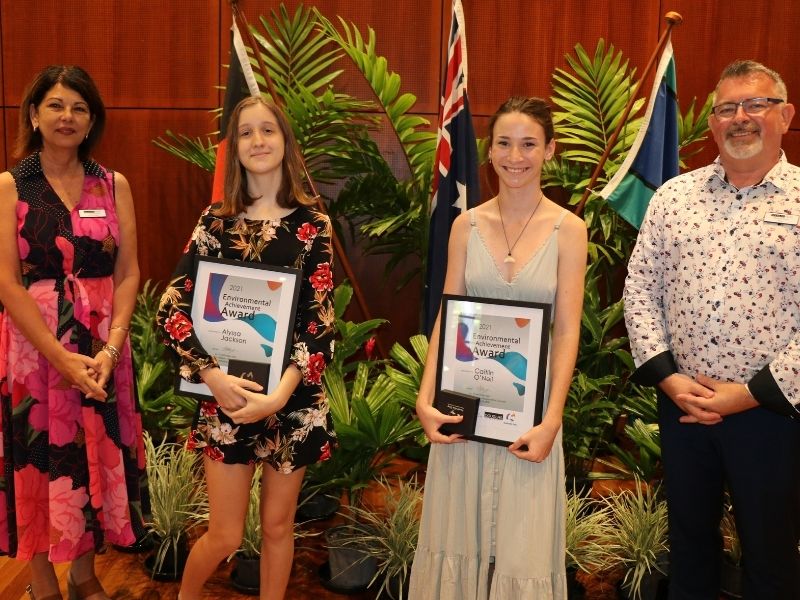 Local teenagers, Alyssa Jackson and Caitlin O'Neil, have become sustainability heroes through their children's book, 'Everything Flows to the Sea.' Their advocacy and passion for the environment is brought to life through their book as they take you on an adventure that traces the journey of a plastic straw, and its destination to our ocean.
The environmental message is incredibly important and relevant to Douglas Shire, and our sustainability goal to 'Keep Paradise Plastic Free'.
Alyssa and Caitlin aim to raise awareness of the sustainability message and call on everyone to help make a difference to protect our land and sea by reducing single-use plastics, cleaning up and sharing information on environmental values. Beautifully written by Caitlin, the book features Alyssa's stunning artwork of Mossman Gorge and local Kuku Yalanji culture, referencing local wildlife with their Kuku Yalanji names.
Arts and Culture Award
Rose Watts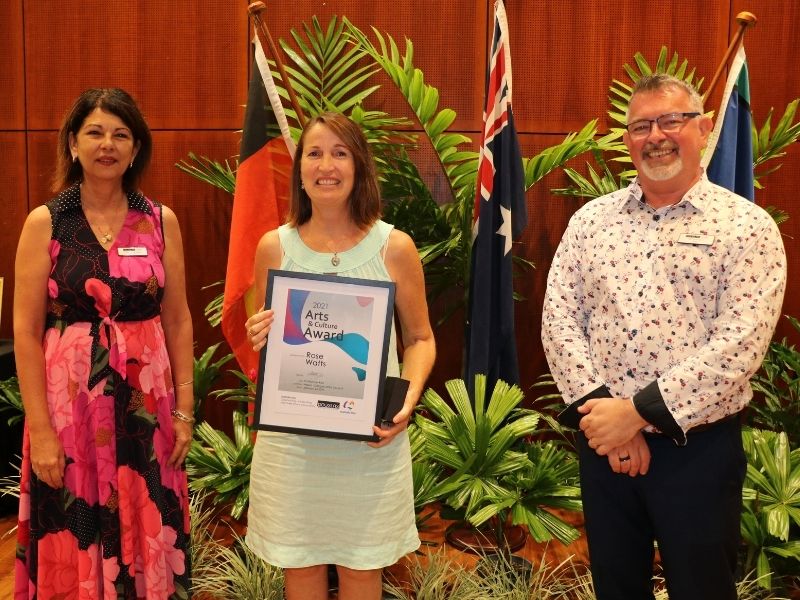 Rose has made a profound difference to the lives of many in the Douglas Shire through her highly regarded art classes. Her dedication, passion and genuine caring nature has been an inspiration to the Community, and a welcome distraction during challenging times.
Rose has an 11-year involvement with Douglas Arts Base, also known as DAB, where she works as a tutor and mentor to local creatives.
Rose received a Council Community Grant to deliver free art classes 'Elements of Drawing' over a 10-week period in 2020 to residents of Cow Bay and surrounds. Rose taught her participants the fundamentals of drawing, and gave participants the opportunity to develop new skills, and find stimulation and distraction during the midst of the COVID-19 pandemic.
Some classes were delivered online during the lock-down – having a strong and positive impact on those living in the remote community and facing issues of isolation and stress. Through Rose's course, a Facebook Group 'North of The River Arts Group' was created allowing members to share artworks and engage in thoughtful conversation.
Volunteer of the Year
Craig Mitchell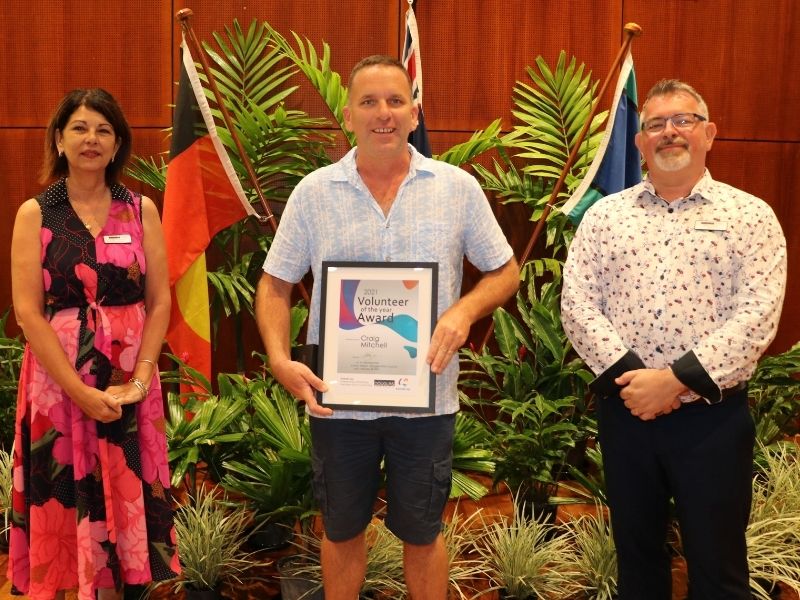 Junior Crocs President, Craig Mitchell, has shown outstanding commitment to his club and the local footy community.  Throughout 2020, Craig has volunteered his time across a raft of activities and initiatives including organising mental health education and welfare support programs for the kids, coordinating volunteers, organising grants and fundraising events, as well as coaching and organising games, and much more.
The impact of the COVID-19 pandemic caused a decline in volunteers and threatened to destroy a year of footy.  Showing unwavering commitment and perseverance, Craig worked against the odds to deliver a season of football and fun for the junior Crocs.
Craig selflessness in his commitment to deliver a safe and enjoyable footy environment for the families of the Douglas Shire is to be celebrated, and the reason he has received this recognition.
Young Citizen of the Year
Angela Brischetto (award accepted by a friend in Angela's absence)
Talented teenage dancer, Angela Brischetto, has inspired hundreds of young performers through her unwavering talent and commitment.  She was recently accepted into the Dynamite Studios Performing Arts High school on the Gold Coast in 2021 and will kickstart her career as a professional dancer and singer- by training full-time while she completes her year 10 studies.
Angela devotes her life to the arts and trains six days a week at local Mossman dance school, Bodies In Motion. She takes her position very seriously and is a role model to many. She is an assistant teacher and goes above and beyond to help her peers.
Angela regularly represents the Douglas Shire at different dance eisteddfods and competitions across FNQ and Brisbane. In the past two years, she has received several major awards including Most Promising Song & Dance Performer, Modern Champion and a bursary award at the International Dance Awards.
Angela is the epitome of hard work and is living proof that you can achieve your dreams, regardless of where you live. To come from a small rural town with limited opportunities in the arts, and to be accepted into a prestigious dance course is a testament to her character.
Civic Recognition Award
Noel Weare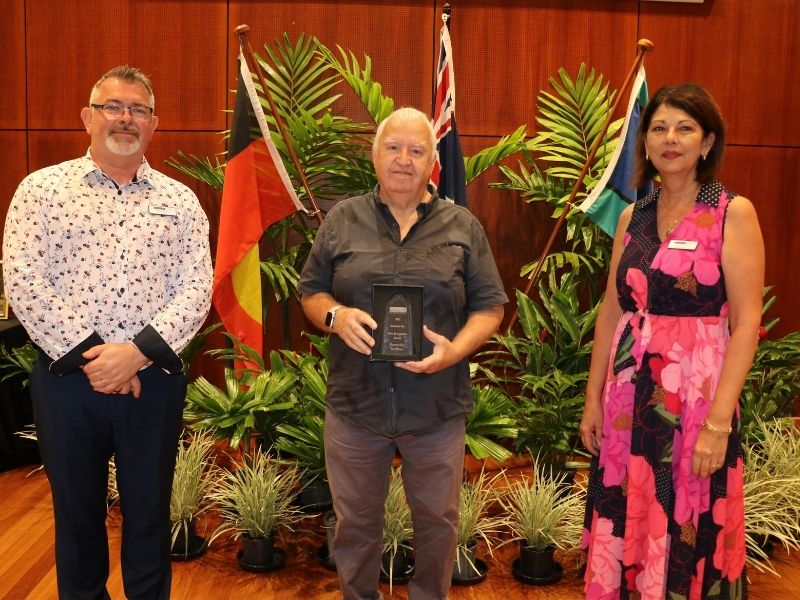 Noel Weare established the Douglas Shire Historical Society in 1994 and has an encyclopaedic knowledge of our Shire's history. which he keenly shares. He managed the restoration of the old courthouse into the popular Port Douglas museum and wrote a book on its history, "Built to Survive".
He was instrumental in rescuing and restoring Dixie's Shed and the Port Douglas Flagstaff, and erecting a memorial to pioneer Charles May. Currently, he is working on five new historic photo posts for Port Douglas.
Noel regularly consults with Council on a variety of projects and contributes countless hours to the preservation of our community's history.
His most recent book is "This Upstart Port Douglas", publishing old newspaper reports of the history of our town. We congratulate Noel on a lasting and valuable contribution to our Shire.