DOUGLAS Shire Council has stared down global and local challenges to deliver a 2022/23 Annual Budget which maintains existing services and balances the books sooner than expected.
The $53.6 million-dollar-budget was endorsed today with a $13.7 million dollar capital works program featuring 57 projects.
Council will spend more than $21 million on material and services providing opportunity for local businesses to work with Council.
Douglas Shire Mayor Michael Kerr said he was proud of Council staff and the community for working together in such difficult times.
"Despite facing skyrocketing costs and global challenges, this budget allows Council to continue to deliver the infrastructure and services which our community deserves and requires," he said.
"People can see this right across the economy, whether it is going to the grocery store, putting fuel in your car, or building something – costs are increasing at an elevated rate, and these are also real costs for Council to consider when budgeting to provide for our shire."
"I believe this team of Councillors has managed to get the best result we can to keep the broader general rate rise for residents as low as possible and below CPI, while keeping this Council in a good financial position."
"This is a solid budget which keeps the broader general rate rises below the current CPI of 6%, maintains service levels and ensures we continue on track to financial sustainability considerably earlier than first predicted at the height of the COVID pandemic."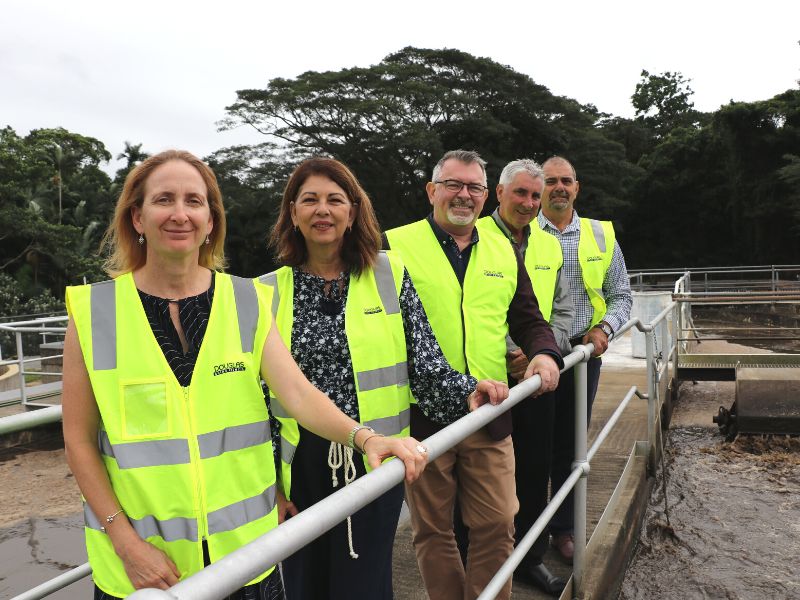 Douglas Shire Council – Cr Abigail Noli, Deputy Mayor Lisa Scomazzon, Mayor Michael Kerr, Cr Peter Mckeown and Cr Roy Zammataro at the Mossman Wastewater Treatment Plant. Council has invested more than $900,000 into wastewater infrastructure in the region as part of the 2022/23 Annual Budget.
A spending breakdown of the budget's $13.7M capital works program includes:
Transport & Marine – $4.7M
Water Supply – $3.27M
Council & Community Facilities – $1.83M
Resource Management – $1.5M
Plant and Equipment – $995K
Wastewater – $905K
Drainage – $500K
Council also continued to address historical inequities in the rating structure through stage 2 of an independent review into its rating categories. During this review, a 3.9% general rate increase, which falls below the current CPI of 6%, was applied across the board with variations to different categories.
For a category one property, where a ratepayer lives at the address, the median rate increase is $43 per year, or 82 cents per week.
For a property in residential rating category five, where a ratepayer does not live at the address, the median rate increase is $93 per year, or $1.78 per week. This is the same median rate increase for building units where the ratepayer does not live at the address.
Council considered feedback from organisations and ratepayers when undertaking the review, as well as recent land valuations completed by the Department of Resources.
"Compared to other similar-sized regions across the state, Douglas is in a strong position and despite our small population, we are able to offer a wide, varied and high level of service to our rate base," Mayor Kerr said.
"I believe that this is a sensible budget which is designed to set this Council up to weather the increasing challenges facing all governments and businesses in coming years."