The old Diggers Bridge is one of the few remaining wooden bridges in the shire, and a favourite spot for wedding photos.
As part of the construction of a new two-lane bridge across the Mowbray River, Council committed to keeping the wooden Diggers Bridge and maintain it in the long term as a recreational facility for fishers, walkers and cyclists.
Budget: $80,000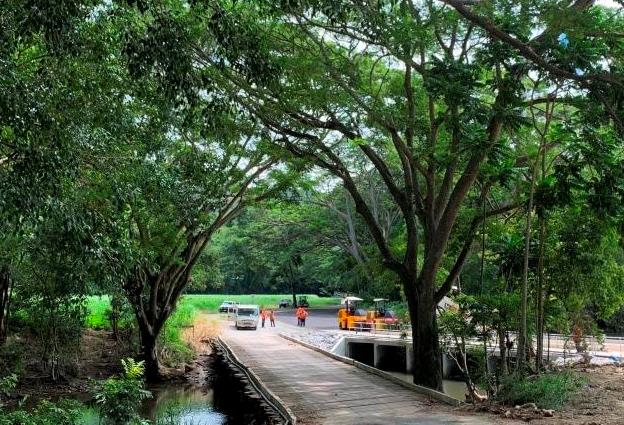 Project
There are two elements to the project.
Retention of Wooden Bridge
Delivering on Council's commitment to keeping the existing wooden bridge, the first part of the project was refurbishing the bridge. Based on a engineer's report completed in June 2018 the refurbishment included:
Concrete repair to all concrete piers
Twelve new girders.
Six new corbels
Thirty new Deck Units
Recreational Area for Fishers, Walkers and Cyclists
The second part of the project was to create a recreational facility for fishers, walkers and cyclists.
Delivering on this commitment, elements completed include:
The planting of 336 rainforest trees on the northern side of the access road. A total of 36 different species have been planted and include Lilly Pilly trees, Ylang Ylang, several variety of figs, Yellow Cheesewoods and Mountain Cedar trees. According to the local cane farmer all are thriving.
The now unused section of bitumen road has been removed.
The area has been levelled out.
A few shade trees have been planted in the area.
Outdoor table and chairs have been installed.
A water fountain has been installed beside the table and chairs
A Douglas Historical Society sign providing information about the original Diggers Bridge built in 1919 has been installed.