REX SMEAL PARK's main amenities block was adorned with creatures from the forest in 2017, as part of a Council initiated Public Art Project.
When the wheel-chair accessible toilet was added to the facility in June 2019, Sam Matthews was keen for the theme to be continued on the new building and via a community grant from Council, Life Among the Trees Part Two became a reality.
"We live on the doorstep of a rainforest teeming with thousands of species of birds and other wildlife so there's no shortage of creatures to choose when I'm designing mural, " Sam said.
Explaining the process, Sam said individual animals featured in the mural were created by members of Douglas Arts Base Studio.
"Using an outline traced on mesh, about 15 Dabsters pieced together tiny bits of pottery, ceramic and glass tiles to create lorikeets, kookaburras, butterflies, sea eagles, dragonflies, bats, lizards, frogs and even common house flies.
"Once the individual animals were done, each one was glued in place amongst hundreds of colourful leaves which were hand painted by members of the Muruka Art Group and this took about three weeks," Sam said.
Sam said this time the project delivery was very different with COVID-19 restrictions.
"It meant rather than working together in groups at Douglas Arts Base, I had to deliver tiles and the right selection of paint colours all around town to people's homes and then collect the finished items," Sam said.
Douglas Shire Mayor Michael Kerr said the additional logistics appeared not to have had any adverse impacts on the project's success.
"The mural is a wonderful addition to the building and what makes it even more extraordinary is the involvement of so many people.
"It is a credit to Sam who has created an opportunity for 45 ladies in the community to make new connections and have such a wonderful shared experience." Mayor Kerr said.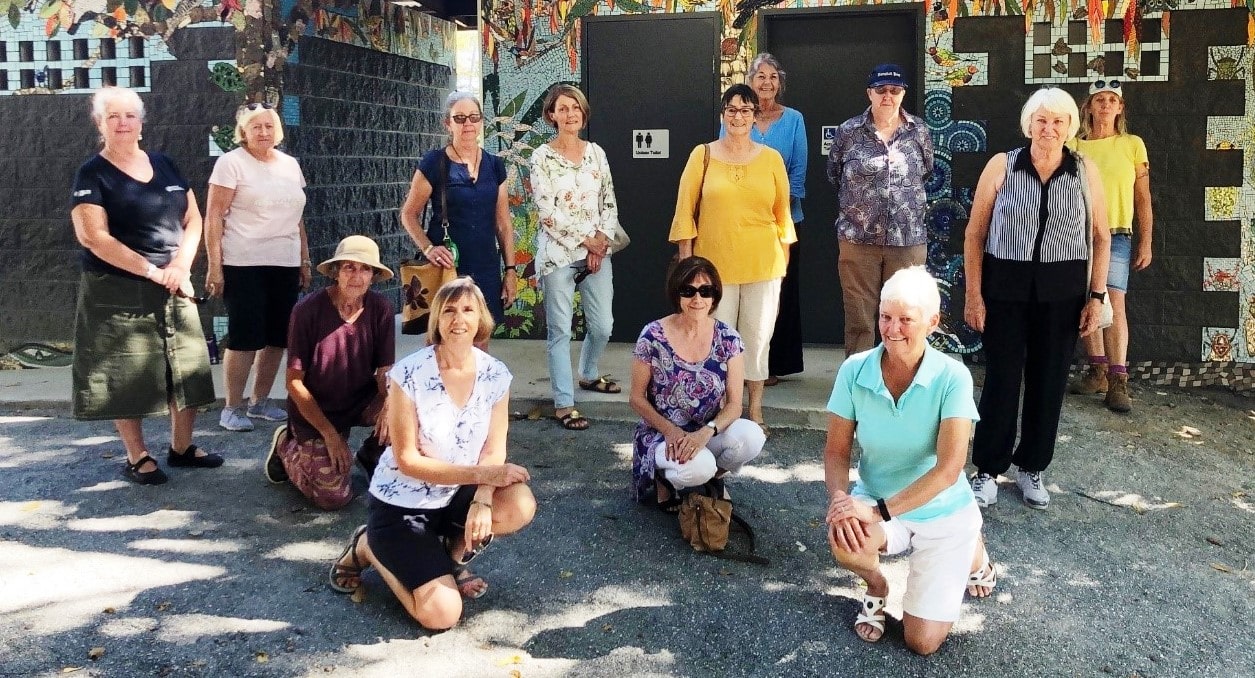 A few of the contributors gathered to see the completed mural. From Left to Right Julie Norman, Andrea Falstein, Ellen Terrell, Lorraine Potter, Deb Edds, Sharyn Hooper, Pat Lane, Janine Paterson, Lee Anne Witte, Sue Dennis, Inger Rowe, Sue Parry and team leader Sam Matthews.