DOUGLAS kids have an opportunity to connect with their creative side during a free workshop to be held as part of the inaugural Call of the Running Tide.
From Saturday, Mossman Shire Hall will be transformed into a children's exhibition and workspace, called Bamboo Connect, for the environmental arts event.
The event will bring local kids together to the creation of and interaction with public artworks through a hands-on exploration of environmental, structural and social relationships, with bamboo as the connecting building block.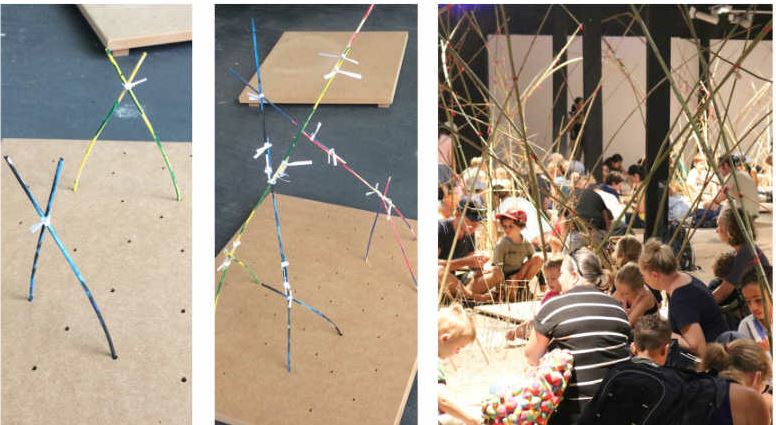 Douglas Shire Council Mayor Julia Leu said the Bamboo Connect workshops would help kids from different schools collaborate to make something special.
"This is a fantastic free workshop where the school kids will be exploring renewable energy and using materials in a sustainable way," she said.
"It is also an opportunity for kids to experiment with the compression and tension of the bamboo sticks."
The workshop is open to kids aged six to 12 years old.
Parental/guardian supervision is required.
Workshop times:

The Call of the Running Tide will feature environmental sculptures, multimedia projections, artist performances and environmental organisation information stalls at key locations in Mossman and Port Douglas from September 20 this year.
The free event, which received grant funding through the Regional Arts Development Fund, Regional Arts Services Network and the Community Gambling Fund, provides local artists with a new, creative way to respond to the unique beauty of the Great Barrier Reef, Daintree Rainforest and broader Douglas Shire region.
Artists are also responding to current local and global threats such as global warming and marine plastic.
Booking details:

Call of the Running Tide will take place September 20 to 29 this year.
WHAT'S ON:
Environmental sculptures will be exhibited at the start and finish of the new Flagstaff Hill Walking Trail, along the coastal edge of Rex Smeal Park and in and around the Port Douglas Community Centre.
Multimedia works will be projected at outdoor locations in Macrossan Street and on the Sugar Wharf.
Smaller, more delicate sculptures and multimedia art will be displayed in the Port Douglas Community Centre.
Environmental groups will have stalls and share information at the Community Centre. As part of Call of the Running Tide, Bamboo Connect will feature in the Mossman Hall.
An exciting art, music and performance project, called Colour My Song, will feature about 150 performers and run alongside the event, complementing artworks and event themes.
Call of the Running Tide is curated by Jill Chism, a local experienced and nationally-recognized artist who is supporting artists to produce quality artworks with thematic consistency.
The event is strongly supported by Douglas Shire Council, Arts Queensland, Regional Arts Services Network, Kick Arts, Regional Arts Development Fund, The Community Gambling Fund and local environmental and tourism organizations including Tangaroa Blue, Rainforest Rescue, Great Barrier Reef Legacy, Straw no More, Douglas Shire Sustainability Group, Low Isles Preservation Society and Tourism Port Douglas and Daintree.