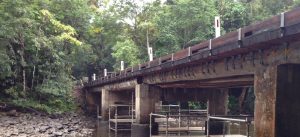 Budget:
Total: $1.5 million $1.125 million Federal Government $375,000 Douglas Shire Council
Project:
Noah Creek Bridge is located on the Cape Tribulation Road between Cape Tribulation and Thornton Beach and was built by the US Army Corp of Engineers during the Second World War.
It is now in poor condition, currently rated at '4' under Department of Transport guidelines and is due for replacement.
Douglas Shire Council applied for and was successful in securing 75% of the estimated cost under Federal Government's Building Better Regions Fund.
Geotechnical investigations have been done and Council has called for tenders which close 15 August 2018.
If you are interested in further information, the link to the tender documents is Noah Creek Design and Construct Tender.
At this stage, the plan is to build a new crossing adjacent to the existing bridge which will remain in service during construction.
One of Council's stipulations is that vehicle access across Noah Creek must be maintained throughout the construction process.
The final design of the new bridge will be up to the contractor but at this stage it is likely to be a concrete bridge.
In terms of timing, Council hopes to award a contract in October, with final design and permits expected to be completed by May 2019.
Construction is tentatively planned for between June 2019 to and December 2019 but until a contractor is appointed, these time frames cannot be confirmed.
Useful links:
Wet Tropics Management Authority
 http://www.wettropics.gov.au/environmental-weeds
 http://www.wettropics.gov.au/weed-identification
 https://www.wettropics.gov.au/permit-system
 https://www.wettropics.gov.au/section-62-guidelines