ACTION was the resounding message this morning as Community, Business and First Nations leaders came together at the Pullman Sea Temple Port Douglas Resort & Spa for the Inaugural Official Breakfast for National Reconciliation Week.
Motivational Speaker and Founder of Success With Attitude, Trevor Tim, was the MC for the morning and kept guests on their toes with his charming, pull-no-punches approach.  Guests were welcomed with an Acknowledgement To Country and Smoking Ceremony, before Shaun Creek served up an impressive performance on the didgeridoo. The poolside action continued as Torres Strait Islander dancers and musicians welcomed the morning in commanding style.
Lynette Johnson, Chairperson of Jabalbina Aboriginal Corporation, and Gavin Singleton, Project Manager at Dawul Wuru Aboriginal Corporation spoke from the heart in their opening addresses of welcome and reconciliation.
The purposeful discussion continued in the Temple Room where an impressive line-up of guest speakers addressed the audience over breakfast. The key message, echoed by all speakers and fitting to the NRW 2021 theme, was one of action.  "Let's not make it about one week. Reconciliation should live in our hearts and minds always.  Let's take the momentum from this week and let's keep moving forward, speaking up, creating awareness, and taking action. We all have a responsibility," said Lynette Johnshon.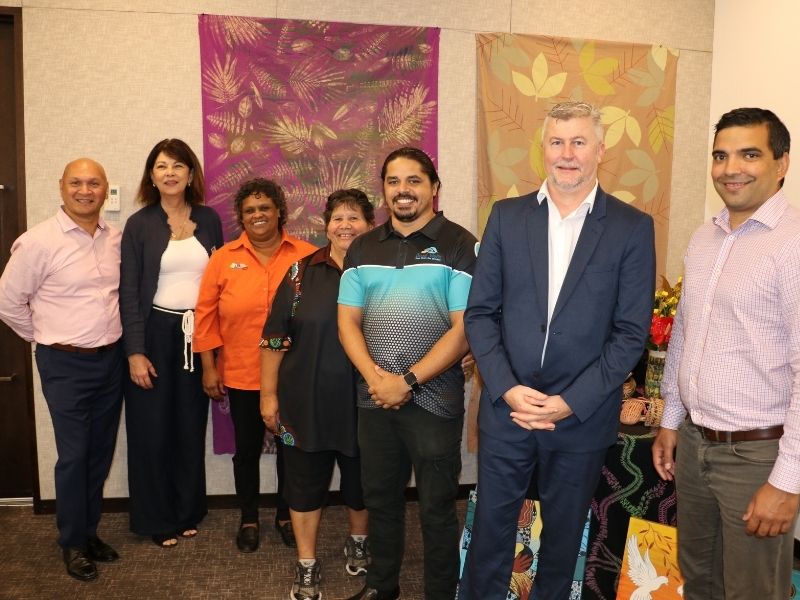 From Left to Right: Trevor Tim, Deputy Mayor Lisa Scomazzon, Rachael Hodges, Lynette Johnson,  Gavin Singleton, Christopher Northam, Dean Parkin
Deputy Mayor, Lisa Scomazzon, spoke about the importance of the week and the celebrations in Douglas.
"The Sea of Hands display at Market Park shows us just how many people are willing to get behind the movement and take the time to write personal messages of reconciliation."
"Today is a time for us to come together as leaders in the community, to have open and honest conversations about what needs to be done as we continue our journey for reconciliation in the Douglas Shire."
From The Heart Director, Dean Parkin travelled up from Brisbane to share this emphatic message of reconciliation speaking on the importance of the Uluru Statement From The Heart, and the importance of all-inclusive and purposeful change.
Christopher Northam, General & Area Manager for Pullman Port Douglas Sea Temple Resort & Spa, together with Rachael Hodges, General Manager of Mossman Gorge Centre, Lynette Johnson (Chairperson Jabalbina) and Gavin Singleton (Project Manager at Dawul Wuru Aboriginal Corporation), added further voice to the message for action.
The breakfast wrapped up with a heart-felt thank you to the organisers and sponsors of National Reconciliation Week 2021 in Douglas, with major sponsors gifted original artwork from Yalanji Arts Centre artists.