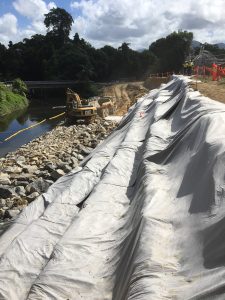 A MILLION-dollar rock wall project has been built to strengthen flood resilience and protect the Mossman Wastewater Treatment Plant from future erosion.The $1.4 million Mossman riverbank stabilisation works will fight river forces and reduce the chance of future landslips.
Douglas Shire Council Mayor Julia Leu said the impressive works would guard the plant for years to come.
"This is a fantastic and complex project that will further bolster the area's disaster resilience," she said.
"Both sides of the Mossman River and South Mossman River have suffered from continual erosion for several years.
"This rock solid stabilisation is a credit to Council's project manager and contractors who ensured construction reached practical completion within three months."
Detailed analysis and rigorous environmental assessment were needed before works started.
The wall, which is 4.5 metres thick in some areas, is made up of 7000 cubic metres of rock from Mount Carbine Quarries. Mareeba contractor HEH Civil completed the works.
Fencing works and an access road construction will have the project fully completed by the end of February.
The works are part of the record $37 million Capital Works 2017/18 budget, which includes the delivery of 173 projects.
Mayor Leu said the capital works delivery had been excellent.
"Council staff and contractors continue to prove their huge worth to the region and are to be commended for their timely delivery of key project," Mayor Leu said.
"It is also immensely pleasing that most projects have been delivered well within budget and in many cases achieving valuable savings."
Electrical supply upgrades at the Wonga Beach Caravan Park, traffic ramp upgrade at the Cow Bay Transfer Station and the Marrs Creek pedestrian bridge design are some projects that reached practical completion at the end of 2017, along with all State Government-funded Works for Queensland projects.