NAIDOC Week 2021 Douglas: July 11-16
Calendar of Events 
10AM
NAIDOC Church Service
CWA Hall, 28 Front St
Mossman
5:30PM – 10PM
NAIDOC Gala
Sheraton Mirage Resort
NAIDOC Week 2021 Douglas Press Release – July 5 2021
From frocks to footy boots – there's an exciting line up of events planned for this year's NAIDOC week celebrations in the Douglas Shire.
Stealing the show will be the first NAIDOC Gala Awards Night to be hosted at the Sheraton Grand Mirage Resort Port Douglas.  120 guests will don their finest on Friday July 16 to honour Award winners across 11 categories including the Douglas Lifetime Achievement Award, Deadly Role Model of the Year, Elder of the Year, Deadly Artist of the Year, and non-Indigenous Advocate of The Year.
The Awards night is the flagship event in the Douglas NAIDOC Week program hosted by the Indigenous Events Committee to celebrate this year's NAIDOC theme – Heal Country!
The 2021 NAIDOC Week theme calls for all Australians to continue to seek greater protections for our land, waters, sacred sites and cultural heritage. NAIDOC Week 2021 invites Australians to embrace First Nations' cultural knowledge and understanding of Country.  At the heart, it's about understanding that Country is more than a place – it's inherent to our identity, and sustains our beings spiritually, physically, emotionally, socially and culturally.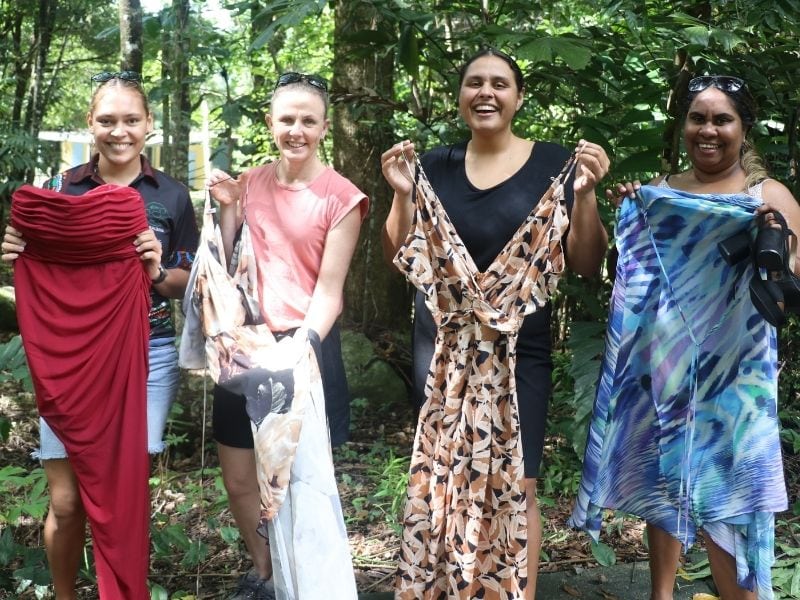 Douglas Indigenous Events Committee holding outfits donated by a generous supporter of the NAIDOC Gala Awards Night.
Indigenous Events Committee member Kirsty Burchill is excited about celebrating NAIDOC Week in style in Douglas. "The 2021 theme – Heal Country is also about embracing our First Nations cultural knowledge and heritage, and the Gala Awards night is a chance for us to take stock of individual achievements as part of our wider culture and values."
"It's so important we recognise the outstanding achievements and contributions of our First Nations people in Douglas – there's so many wonderful people undertaking such great initiatives and making a real difference in the community."
The NAIDOC 2021 Douglas program opens with a special Church service on Sunday in Mossman, before NAIDOC Week is officially welcomed with an Opening Ceremony at Douglas Shire Council at 9am on Monday morning.  The NAIDOC March will follow the ceremony with all encouraged to join in the Heal Country! March from Douglas Shire Council to George Davis Park.  The NAIDOC Baby show on Tuesday will add a touch of cuteness to festivities before ramping up a notch for a mixed gender Touch Footy Comp at the Mossman Showgrounds. The Cultural Night Markets will also be a must-do at George Davis Park in Mossman on Wednesday July 14.
Douglas Shire Mayor Michael Kerr is looking forward to dusting off his waistcoat and joining in the NAIDOC action, "What a week we have in store thanks to the Indigenous Events Committee – there's a raft of exciting events and activities to get the community involved in celebrating this important week and recognising the history, culture and achievements of our First Nations people."
"It's particularly wonderful to see the Gala Awards night as part of the program. It will be a great opportunity for us to recognise and celebrate individual achievements, and fittingly honour important contributions within our First Nations community."
"From the line-up of community events we saw over National Reconciliation Week in May, to the energy of NAIDOC Week in July, there's so much to celebrate, recognise and embrace around our First Nations People and culture. Let's continue this journey together and lets all get involved in NAIDOC Week 2021."
View the full program of events for NAIDOC Week 2021 in Douglas here.