(Please note due to Sorry Business related to a death in the Community, the Sea of Hands art exhibition will not proceed at George Davis Park in Mossman on Thursday May 27. The Sea of Hands will be held on Friday May 28 in Port Douglas, and we look forward to seeing you at Market Park). 
PORT DOUGLAS will come alive in colour over National Reconciliation Week with the Sea of Hands community art installation to make a bright and powerful statement of healing, acceptance and reconciliation.
Hundreds of hands in the colours of the Aboriginal, Torres Strait Islander and Australian Flags will feature in the Douglas Shire Sea of Hands project.
Each hand, and its individual message, will contribute to creating a colourful display of unity and solidarity.
Everyone is invited to collect a hand and write their personal messages of reconciliation and healing before hands are planted in the ground.
The installation will be held as part of the NRW Community Day in Port Douglas on May 28 at Rex Smeal Park.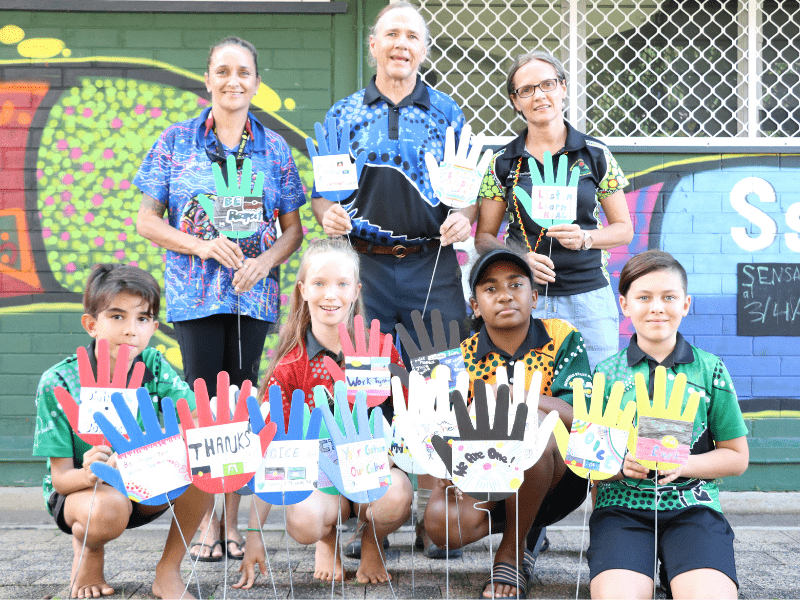 Mossman State School Students from the Indigenous Leaders of the Future team with their Sea of Hands messages – Curtis Lafragua, Juakene Walker, Thea Wilkie, Laiko Sagiba and Phoenix Konop, together with Principal Randal Smith and Grade 6 teacher Sandra Burcombe
Mossman State School and Port Douglas State School are leading the way for the Douglas Shire Sea of Hands with students turning hands into colourful messages of support.
"Build Togetherness," "Join us," "Be Proud – Take Action Together," are just some of the messages from students who will make a collective and powerful contribution to the Sea of Hands, and the Reconciliation voice.
Port Douglas State School Principal Ken Schaumberg said the project was a wonderful way for students to be involved and consider the history and the ongoing understanding of our First Nations people.
"The project keeps alive, in a very real way, our connections with each other and the relationships we need to have," he said.
"It is through embracing our history, we can acknowledge our shared past and build a bright future for all Australians that recognises and celebrates all our differences."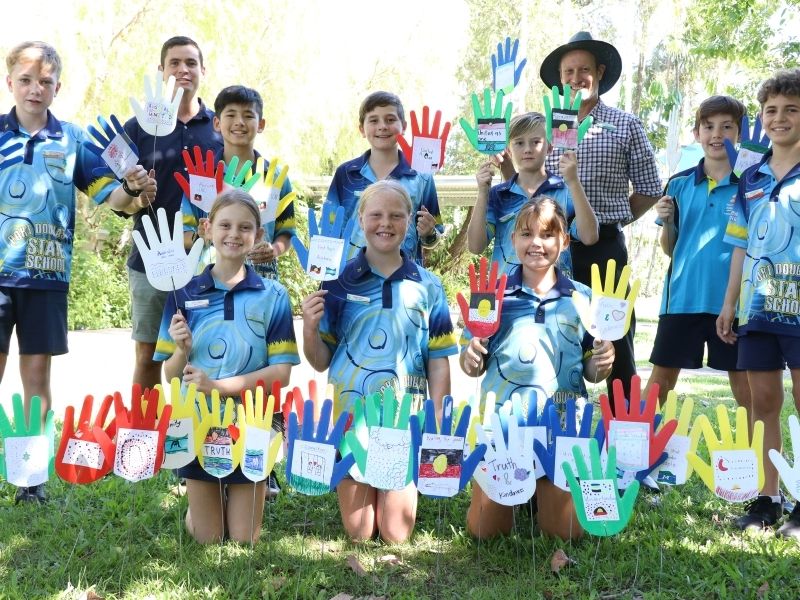 Students from Port Douglas State School (Tye, Guy, Harvey, Ollie, Toby, Joey, Katelyn, Abigail, Naya) together with Grade 6 Teacher Tobius Mott and Principal Ken Schaumberg)
Mossman State School Principal Randal Smith said the school community was thrilled to be involved in the Shire's National Reconciliation Week activities. "Our students thoroughly enjoyed preparing messages of support for the Sea of Hands art installation.  We're also looking forward t the Walk for Reconciliation and our "Ngujakara" story morning on June 2nd, which has been organised by students in our Indigenous Leaders of The Future team."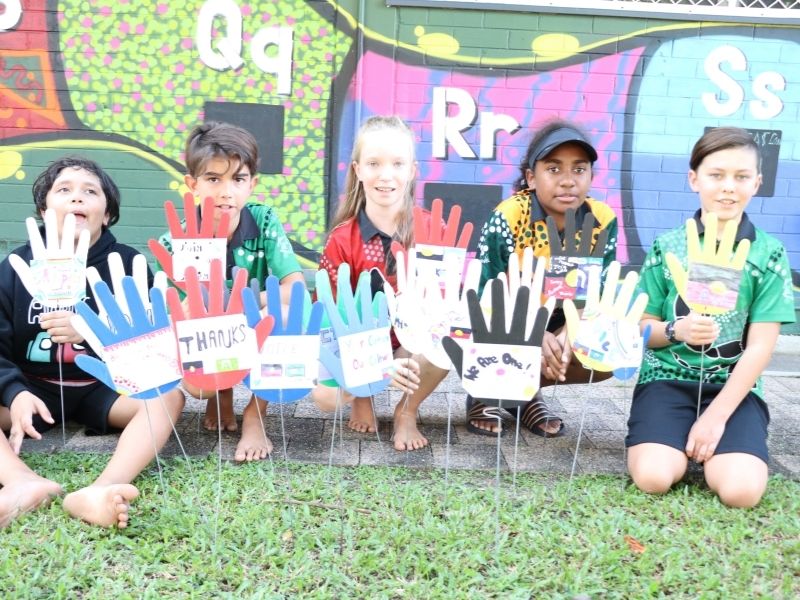 Douglas Shire Council's Community Development Officer (First Peoples) and Indigenous Events Committee member, Margaret Ross-Kelly, said the "ANTaR's – Australians for Native Title and Reconciliation – Sea of Hands is an iconic symbol of Reconciliation.
"It has been used as a powerful way for communities around Australia to engage with Aboriginal and Torres Strait Islander issues and events," she said
"We are excited to work with the whole community, and we encourage everyone to get involved in National Reconciliation Week, and the Sea of Hands."
"Come along to Rex Smeal Park in Port Douglas, grab your hand, write your message, and plant it alongside other hands of support.
"It's a fun, engaging, and beautiful way to tell the story, break down barriers, and open hearts and minds to a new way forward."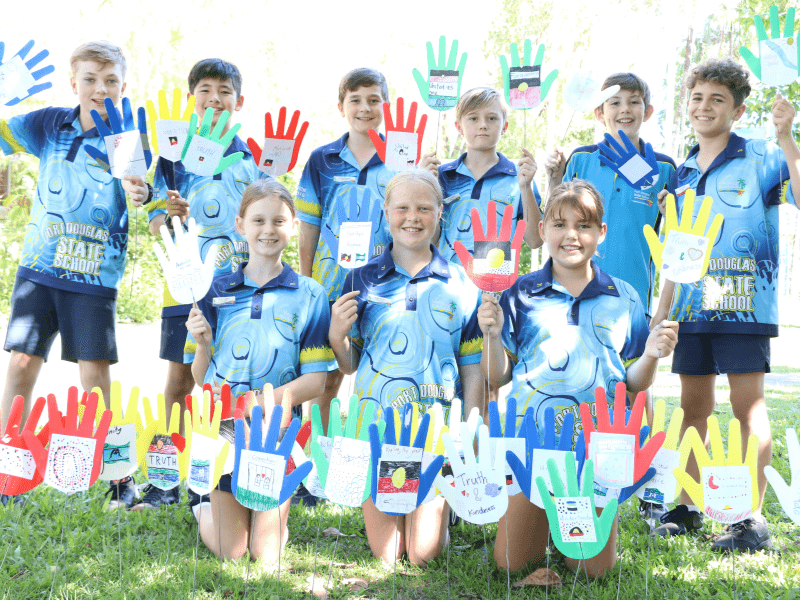 Students from Port Douglas State School (Back Row: Tye, Guy, Harvey, Ollie, Toby, Joey | Front Row: Katelyn, Abigail, Naya)
KEY EVENT DETAILS
Sea of Hands – Port Douglas, 28 May 2021
The Sea of Hands in Port Douglas will take place during the Reconciliation Week Community Day at Rex Smeal Park from 10am – 2pm.
Hands will be available at the park.
Markers will be on hand at all collection points so participants can write their messages of support.
For those wishing to write their messages of reconciliation in advance, hands will be available in the foyer of Douglas Shire Council's Administration Building, and at the Mossman and Port Douglas Libraries from next week.
Click here to view the full program of events for Douglas Shire National Reconciliation Week, and visit Home – National Reconciliation Week 2021 to read more about National Reconciliation Week 2021.