A LOCAL war museum has received a makeover and is ready to welcome new visitors.
The team at Mossman RSL added hand-crafted boats and planes among other pieces of war memorabilia in the past few months.
RSL Secretary Wally Gray now reckons the place is ready to welcome visitors and school groups.
"We have some really interesting pieces on display, the war ships are hand crafted from scratch, we have old newspaper clippings, ex-military firearms, a medal display board and much more," he said.
"Most memorabilia has been donated by our local community over the years. For example, the big poppy field was donated by Port Douglas CWA, we have a mosaic made from images of cenotaphs from Australia and New Zealand which was donated by Mossman Bowls club and the art work outside was painted by students at the Mossman State High School."
"A lot of spirit and hard work has gone into creating this museum and we would really like to share it with the community."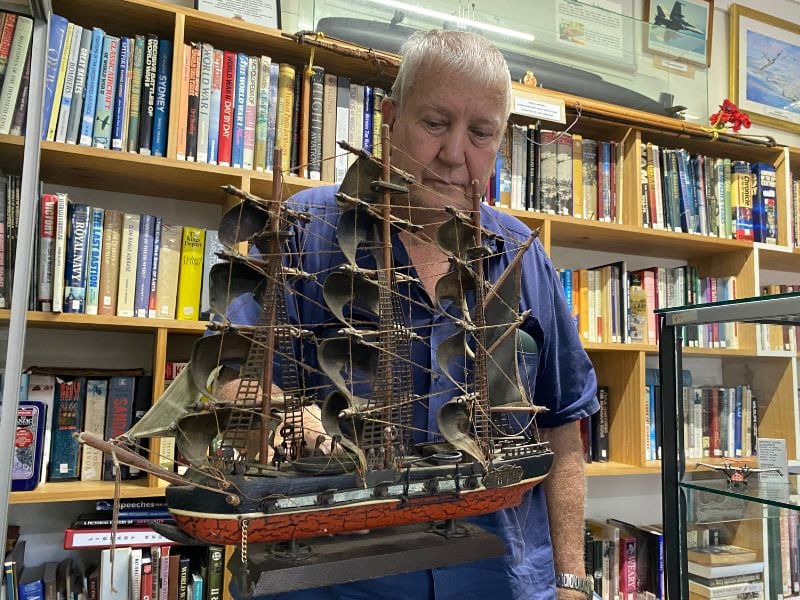 The museum, which has been collecting the memorabilia since 1918, also has a library where members can borrow books to read, or the public can read them on site.
If anyone would like to visit the recently revamped museum, just give Wally a call on 0448 686 415 for a tour.
The museum opens on request, ahead of the Douglas Remembrance Day service outside Council's Mossman Administration Building on Front Street.
Douglas Shire Council and Mossman RSL invite the public to attend and lay a wreath from 10.30am on Friday 11 November.
Light morning tea to follow.
Learn more on the Remembrance Day event HERE