A HIGHLY respected SES Leader has taken out top honours at the State Emergency Services (SES) Regional Award Ceremony for FNQ.
Douglas Shire Council's Team Leader for Civil Maintenance, Daryl Cheer, was awarded the National Emergency Medal for his contribution during Tropical Cyclone Debbie, as well as taking out the Regional Member of the Year for the second time at a ceremony held at Warringa Lakes in Innisfail on Saturday.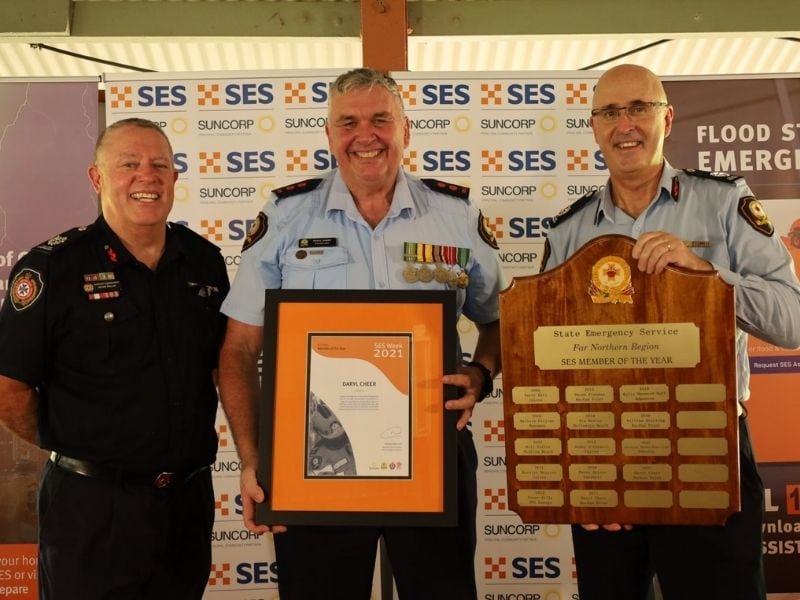 Hosted during Queensland's SES week, the Regional Awards Ceremony for FNQ marks an important opportunity to honour the hard work and dedication that SES staff and volunteers provide to the communities across the far north.
QFES Assistant Commissioner Andrew Short and Regional Assistant Commissioner Kevin Walsh awarded Mr Cheer both medals for his outstanding work in going above and beyond for Queensland communities.
Mr Cheer said he was delighted and humbled to receive the prestigious recognitions.
"It is a huge honour. I thank all the members I have had the pleasure to train, deploy and work with," he said.
"In the last 12 months we have deployed to Brisbane for the hailstorms, NSW for the floods, gone to conferences, completed trials for new ways of working on roofs with chainsaws, taught on a dozen courses and completed many smaller operational tasks.
"And just last weekend we were searching for a lost motor bike rider at Wujal Wujal and next weekend I will be in Brisbane for the state SES week awards.
"Life is never boring in the SES."
Douglas Disaster Management Officer, Jamie Kleinhans, was thrilled to see Daryl honoured for his important contribution.
"Daryl is such a versatile, inspirational, hardworking colleague, friend and SES mentor," she said.
"With his Buchan Point SES Unit – Daryl provides a lot of support to Douglas Shire – during various exercises, activations and most recently searching for a missing person north of the Daintree River."
From 9-17 October, SES week honours the hard work and outstanding efforts of the staff and volunteers across Queensland who form the State Emergency Service.
If you are interested in volunteering with the SES come and see us at the Mossman SES Shed from 17:00 on the first/third Monday of every month or register online here. We are always looking for storm damage teams, flood boat operators, admin support, drone operators and heights crews.