Having completed a trip across the Nullarbor to Perth last year, author Jenn J. McLeod has made her way to The Far North where she's putting down roots long enough to do some meet-and-greet events, in between editing the next novel.
Deciding in 2014 to travel Australia in a fifth-wheeler caravan, Jenn J. McLeod is fulfilling her lifelong ambition to write. Since 2013 she's had five novels published and is touring the country to champion her Paddock to Print philosophy.
By visiting The Far North, Jenn is ticking things off her bucket list. So far she's made that sea change, written that bestseller, and downsized her life to a purple and white caravan she calls Myrtle the Turtle. After running out of friends and family to fictionalise she sold everything and headed off in search of more country towns and characters to write about. And according to Jenn this magnificent country has plenty of both.
"Sometimes my work requires I sit in one place for a while to focus," Jenn said. "But sometimes I need to play. Port Douglas sounded like a great destination and Mossman Library was so welcoming when I contacted Judy to suggest I pop in."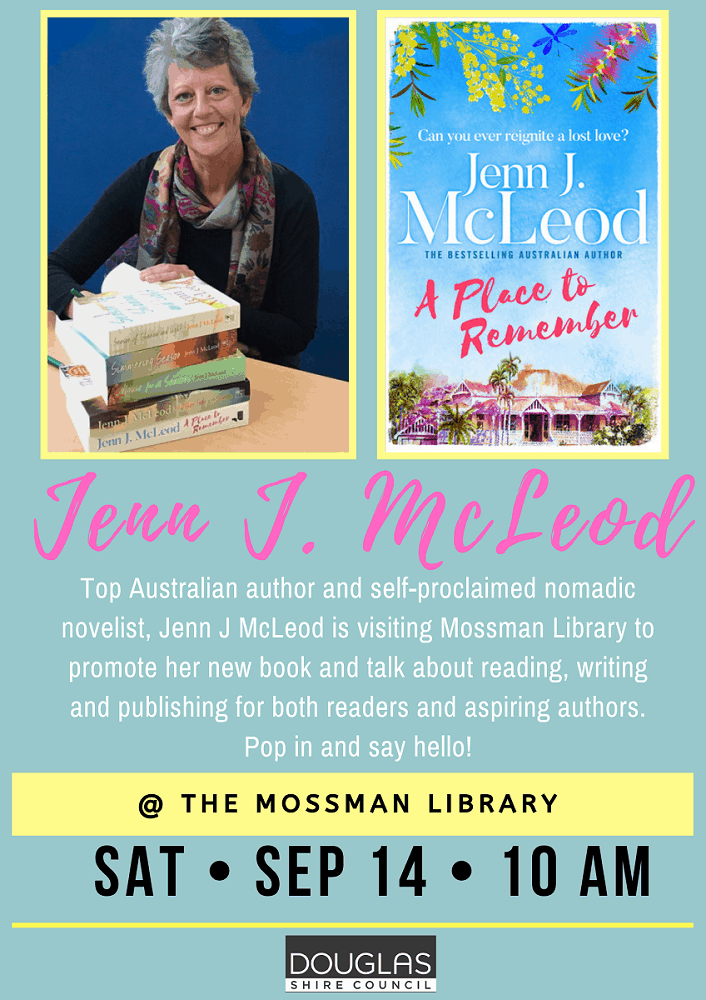 Jenn will be meeting readers and writers at a free event at Mossman Library on Saturday, 14 September from 10 am where she'll share some of her publishing journey.
With a fifth book on the shelves she is living the dream and by sharing her personal publishing story at local events she hopes to inspire others—at the same time supporting the valuable community resource that is the local library.
Jenn's heart-warming tales of Australian country life weave intricate tapestries of friendship, family, love and contemporary issues. Readers who enjoy novels in the style of Monica McInerney, Mauve Binchy and Di Morrisey, will enjoy Jenn's books.
She hit the literary scene with a four-book Simon & Schuster deal and was immediately praised for her authentic and relatable characters and sense of landscape. Jenn finds inspiration for both by travelling to new places, earning her the title of Australia's Nomadic Novelist.
"I want every book to be a journey—for me and for my readers,' Jenn said.
A three-month stay at Henderson Park Farm Retreat (a fifth-generation cattle property near Yeppoon) inspired her latest novel, A Place to Remember, in which the author portrays both the romanticism of country life and the sometimes-unavoidable realities of living on the land. The multi-generational saga has been published worldwide, with the manuscript picked up by the same London book editor behind numerous successes, including Colleen McCullough's The Thorn Birds.
When not writing to deadline Jenn's posting travel pics on Facebook and Instagram, and peddling her 'Paddock To Print' philosophy, which involves visiting bookshops and libraries across regional Australia and encouraging readers to support home-grown storytellers.
"For years some manufacturing sectors have been telling us to 'Buy Australian-made'. So I thought, why not inspire people to buy (or borrow) home-grown stories over those imported, big-name books? Tell me what you like to read and I'll tell you an Aussie author whose stories are just as compelling, as heart-warming, or as funny."
Jenn says supporting Australian literature can be as simple as asking your library or book shop for suggestions.
"Readers today have the responsibility of nurturing our next generation of booklovers and we need to keep Australian authors writing those stories."
Locals will have no trouble getting their hands on all five of Jenn's novels: House for all Seasons, Simmering Season, Season of Shadow and Light, The Other Side of the Season, plus her Capricorn Coast inspired A Place to Remember.
She is touring The Far North until November with an entertaining and enlightening audio/visual presentation (and Q&A) for readers, aspiring writers, or those interested in the writing and publishing process.
Mossman Library – September 14, 10 am
To book: 4099 9496
Cairns Library – October 29, 11 am
To book: 4044 3720
______________________________________________________________________________________________________________________________
Editor:
Contact Jenn direct for additional hi-res images or see images under the About Jenn tab: www.jennjmcleod.com
CONTACT DETAILS NFP – MEDIA USE ONLY
Contact: Jenn J McLeod | 0499 113 061 | jennifersmcleod@hotmail.com