The popularity of tennis in Australia continues to grow alongside the introduction of different programs and options that provide options for people of all ages and abilities to participate in the sport.
Clubs across the country are opening their doors to the community encouraging everyone to pick up a racket, have a hit and participate in one of these Tennis programs.
The public are urged to get down to Mossman Bowls Club and make a racket on Mondays starting May 7 under the QLD Get Out Get Active campaign.
The Bowls club will be welcoming people who have never played before, and tennis regulars from 9am to 10am to enjoy Get into Active Tennis.
Mossman Bowls Club Secretary Manager Kevin Rynne said it will be a great activity for the whole community.
"The Get into Active Tennis promises to be a lot of fun, you don't need to know how to play tennis and have already a certain fitness level to come along and join in. It might just be the start of a new interest and new friendships," he said.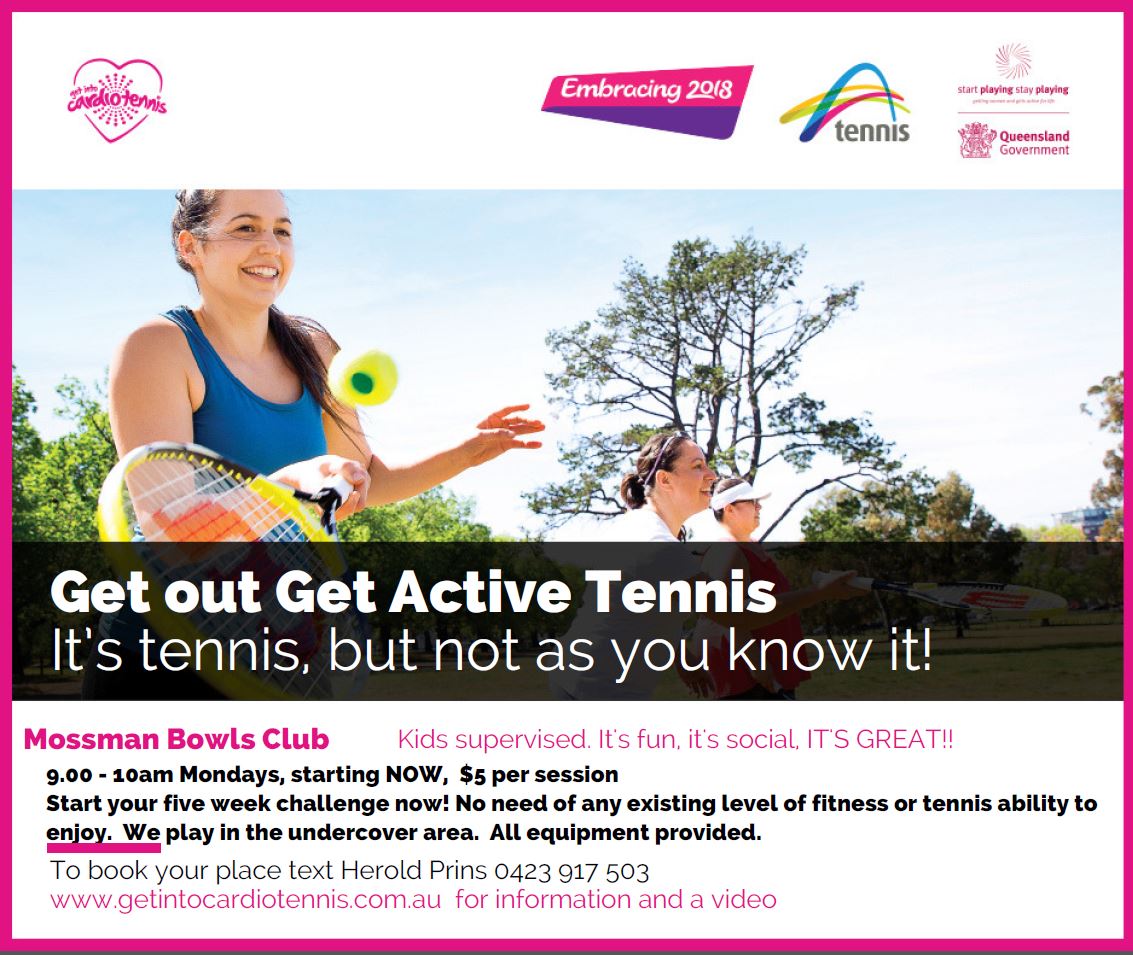 What is Get Into Cardio Tennis?
It's a whole new way for people to get involved in the sport. It's tennis, but not as you know it!
It's a fun, social, game-based program and it's done mostly in the park.
There are no courts and no nets, but we use racquets and balls.
The beauty of this program is that you don't need any existing level of fitness or tennis ability to enjoy a session.
Get out and Get Active for every Body: Tennis QLD teamed up with Tennis Victoria and the Port Douglas Tennis Club and Mossman Squash and Tennis Club, to successfully apply for the Get out Get Active Women's Government Grant to establish Get Into Active Tennis in Far North Queensland.
For more information and bookings contact Herold Prins 0423 917 503 or email MMtennis4U@gmail.com.
Watch the Get into Active Tennis video below:
<iframe width="854″ height="480″ src="https://www.youtube.com/embed/nyOaVJVPhds" frameborder="0″ allow="autoplay; encrypted-media" allowfullscreen></iframe>