DAINTREE blacksmith Victoria Park can now forge metal art at her workshop in the rainforest.
The local artist recently completed a six-week blacksmithing course through TAFE thanks to a Regional Arts Development Fund (RADF) grant received through Douglas Shire Council.
The RADF grant gave Ms Park the opportunity to learn the basics of blacksmithing including heating up steel, as well as learning to shape and manipulate the metal into function objects and artwork.
During her course, she made candlesticks, tongs, a rose, and a mini sculpture.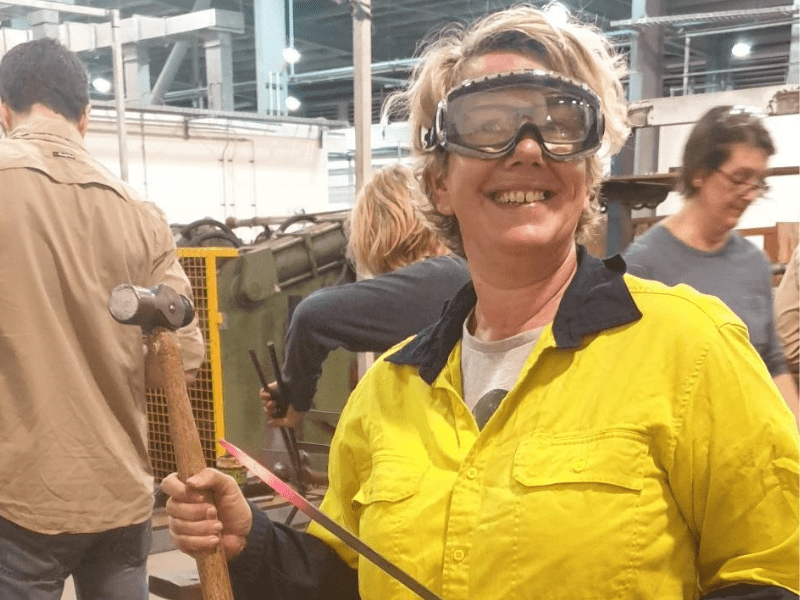 "Through networking with tutors at TAFE and other course participants, I now have the contacts for suppliers of scrap metal, offcuts, forge supplies and fuel," Ms Parks said.
"I thoroughly enjoyed the course and gained so much from it personally, and I believe my artistic practice will be enhanced because of this experience.
"I would like to thank RADF and Douglas Shire Council for the grant and the opportunity."
Applications for the 2020-21 RADF round opens on Monday 1 February, 2021.
RADF is a partnership between the Queensland Government and Douglas Shire Council to support local arts and culture in regional Queensland.
Individuals, organisations, and collectives are invited to apply for funding for arts and cultural projects.  Previous projects recently supported by the RADF include public artworks, creative workshops, career development for artists, research, and development of literary works.
A public information session for interested applicants will be held in the Mossman Administration Building at 2.30pm on Wednesday 10 February, 2021.
Interested applicants may also contact the RADF Liaison Officer on T: 07 4099 9422 or enquiries@douglas.qld.gov.au for advice and further information.