Register Your Interest Now!
Douglas Shire Council is currently taking registrations of interest for local business representatives to attend the Mental Health First Aid course.  The course requires attendance over 2 consecutive days. There is no cost to you.  The course fee of $2,200 is covered by funding support from Queensland Health.
Please complete the form below to register your details, and read on to discover more about the course.
About the Course
The 12-hour Standard Mental Health First Aid course is the gold standard mental health awareness training for any interested adult.
Teaching how to assist an adult who may be experiencing a mental health problem or mental health crisis until appropriate professional help is received or the crisis resolves, using a practical, evidence-based action plan. This course is based on guidelines developed through the expert consensus of people with lived experience of mental health problems and professionals.
Who is it for?
Douglas Shire Council encourages representatives from the local business community to register for the course.  The course will equip you with the tools to help address mental health pressures that may be impacting yourself and/or your employees and teams.
How long is it?
Mental Health First Aid is a 2-day course. Attendance is required over the 2 consecutive days.
When is it taking place?
We are keen to get your thoughts on the most suitable timing, and ask that you nominate your preferred month in the form below.
Who is the Facilitator?
Founded by Mark Schmitt, Thrive in Work is the evolution of modern workplace wellbeing.  24 years ago, Mark started assisting people with psychosocial disability find and retain employment in the open market. Since then, we have continued to grow and understand how workplaces can both improve and impede our mental wellbeing within a modern, busy, socially connected world.
Mark believes in shared responsibility; in education and awareness based on scientifically proven training methods, both for us as individuals and the businesses we work for.  Modern business now recognises that the mental health of their team is the precursor to commercial success, and Thrive In Work helps unlock this connection to ensure that teams thrive and are engaged.
Mark's planned, measured and customised approach has seen successful outcomes for numerous businesses within the region.
Got Questions?
Please contact Emma Tunnock for any questions regarding the Mental Health First Aid Training on emma.tunnock@douglas.qld.gov.au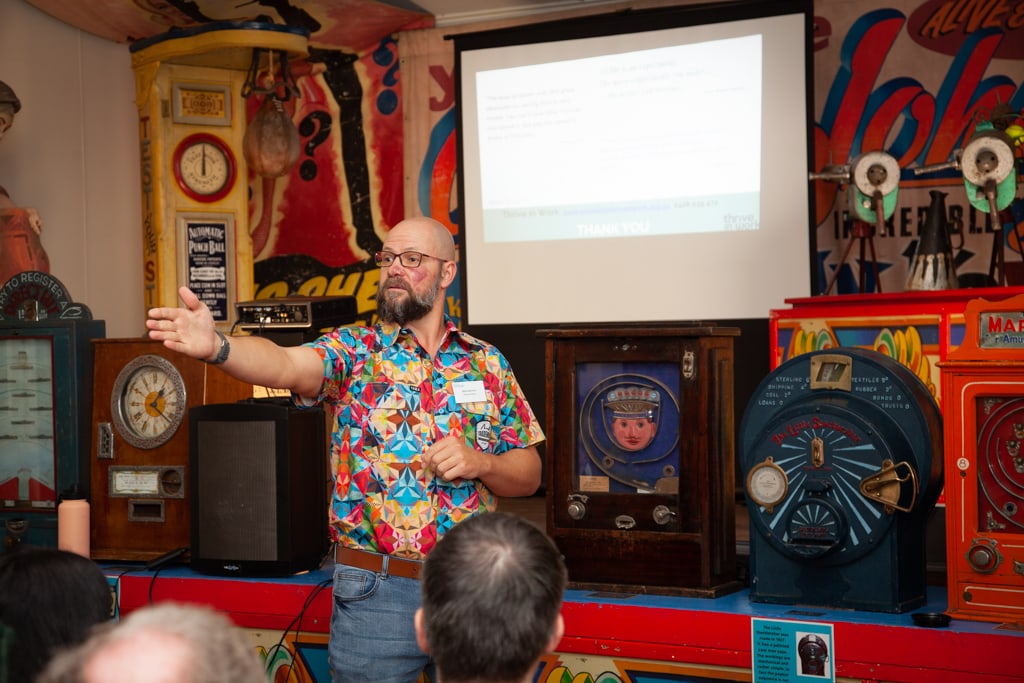 Mark Schmitt from Thrive In Work presenting at the Do It In Douglas business breakfast in August.