A POPULAR Port Douglas Carnivale crowd-pleaser has been locked in for another three years as Douglas Shire Council kicks off preparations to mark the event's 25th Anniversary.
Council endorsed a draft program for Carnivale 2019 that will focus on the core foundation events – the street parade, family beach day and Tropic Rock concert – in a bid to celebrate the essence of Port Douglas.
Council will also enter into an agreement with Wonderland Entertainment and Leisure Pty Ltd to provide the Wonderland Spiegeltent until 2021.
Douglas Shire Council Mayor Julia Leu said "Silver and Sunshine" was the proposed 2019 festival theme to celebrate the significant 25-year milestone.
"Carnivale 2019 will be dynamic and attractive festival designed to appeal to the regional FNQ market through a fantastic mix of free and ticketed events," she said.
"Council expects businesses and community groups to get involved in this momentous occasion to further beef up the program and cement it as an irresistible drawcard for locals and visitors."
"Next year's event will be a fantastic cause for celebration and also timely catalyst to refresh the event moving forward."
Some proposed fresh events include a Jazz & Shiraz Twilight Cruise, Sunday kids concert, Latin pool party and Saturday surfside sesssion.
Council's move to lock in the Wonderland Spiegeltent until atleast 2021 is also a huge boost for the event's future.
The salacious cabaret and breathtaking circus show, which attracted more than 4000 people this year, injects about $800,000 annually into the local economy.
Mayor Leu said the high quality attraction had become synonymous with Carnivale.
"The hilarious show adds another dimension to the festivities and encourages visitors to spend more time in Douglas Shire," she said.
"This is a welcome boost for our overnight accommodation and small businesses who are often looking to kick-start influx of tourists.
"The Spiegeltent adds value to the Carnivale activities by including a float in the street parade, entertainment for the Longest Lunch and makes their facility available for community use."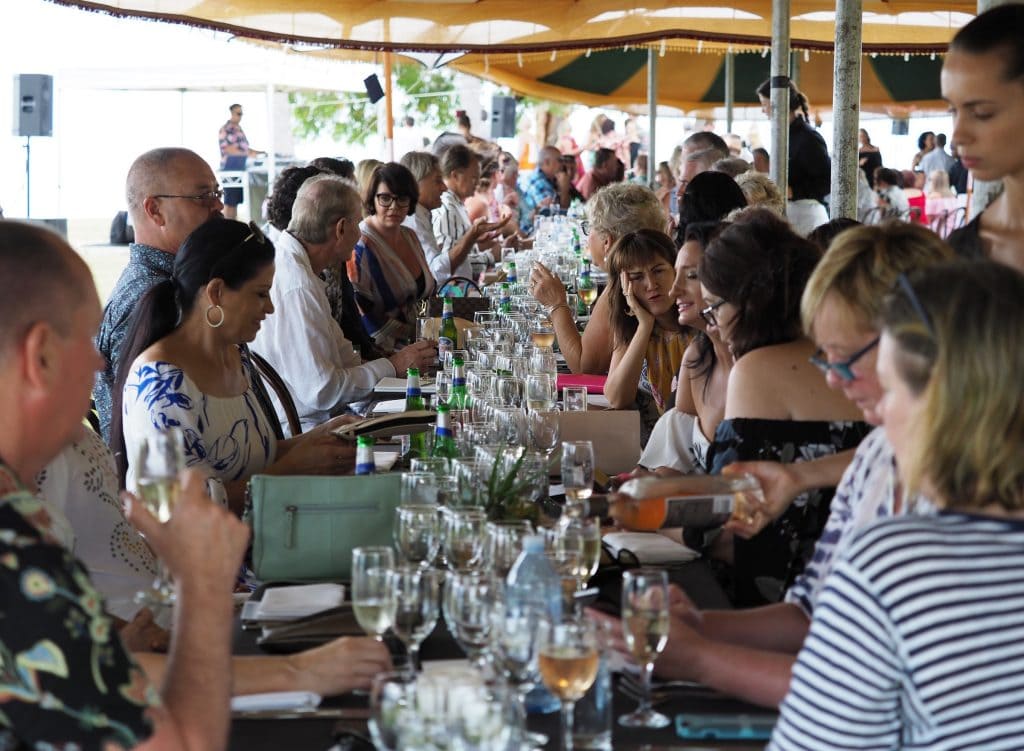 The Wonderland Spiegeltent has been an annual fixture at Carnivale since 2016.
Organisers will be encouraged to promote community workshops with local performing arts and gymnastics groups.
Detailed Draft Program
Festival Theme: 25 years of Carnivale – Sunshine and Silver
(all events are hosted and managed by third parties except where indicated)
Friday 17 May 2019
Spiegeltent at Dixie Park – Ticketed event
7pm till 10:30 pm
Saturday 18 May 2019
Cabernet Cabaret – Black tie / themed – Ticketed event
7pm to 11pm
Sunday 19 May 2019
Jazz & Shiraz Twilight Cruise – Ticketed event
Port Douglas Marina
Tuesday 21 May 2019
ROCK The YACHTY – Balcony TV Hosted – Ticketed event
Wednesday 22 May 2019
ROCK The YACHTY – Balcony TV Hosted – Ticketed event
Thursday 23 May 2019
Latin Pool Party – pool side – Free event
7.00pm to 10.30pm
Friday 24 May 2019
Longest Lunch at Rex Smeal Park – Ticketed event
11.30am to 3.30pm
Out @ Carnivale – Free event
8pm till Midnight
QT
Macrossan Street Parade – Free event
5.30pm to 8pm
(Council run event)
VIP / Sponsor Function – Invitation only event
Post Parade
(Council run event)
Fireworks to Finish
At end of parade – approx. 8.15pm
(Council run event)
Saturday 25 May 2019
Family Beach Day, Four Mile Beach – Free family event
10am to 2pm (Low tide 11.15am)
Beach cricket – 11am – 2pm
Beach tennis – 12noon
Opening ceremony –  10am
Sand Castle competition – 10am to 1pm
Kite flying – 11.30am to 3pm
Skydiving display, Treasure Hunt (Council run event), Saturday Surfside Sesh – 2pm to 6pm
Free family entertainment
Tropic Rock featuring Headline Act, Rex Smeal Park – Ticketed event
7.00pm to 11.00pm
Includes:
Licenced event, Food outlets, Refreshment outlets(Council run event)
Sunday 26 May 2019
Kids Concert
10am to 12noon
Free family concert
Sunday Seafood Sesh,
Crystalbrook Superyacht Marina
11.00am to 5.00pm
Includes:
Range of food outlets, live entertainment