Minister for Employment and Small Business and Minister for Training and Skills Development
The Honourable Di Farmer
Small businesses in the Far North are set to benefit from less red tape and more opportunities thanks to two new Small Business Friendly Council (SBFC) signings this week.
Minister for Employment and Small Business Di Farmer welcomed Douglas Shire and Mareeba Shire to the growing list of councils that have signed up to the charter.
"Small businesses are the heart and hubs of our local communities and are crucial to our $14.5 billion COVID-19 Economic Recovery Plan," Minister Farmer said.
"They are our families, our friends, our neighbours and they keep our communities strong.
"It's fantastic that so many councils have committed to the small business friendly charter, with many others lining up to join them.
"By signing the Small Business Friendly Council charter, councils commit to support small businesses in their respective area and help to reduce red tape."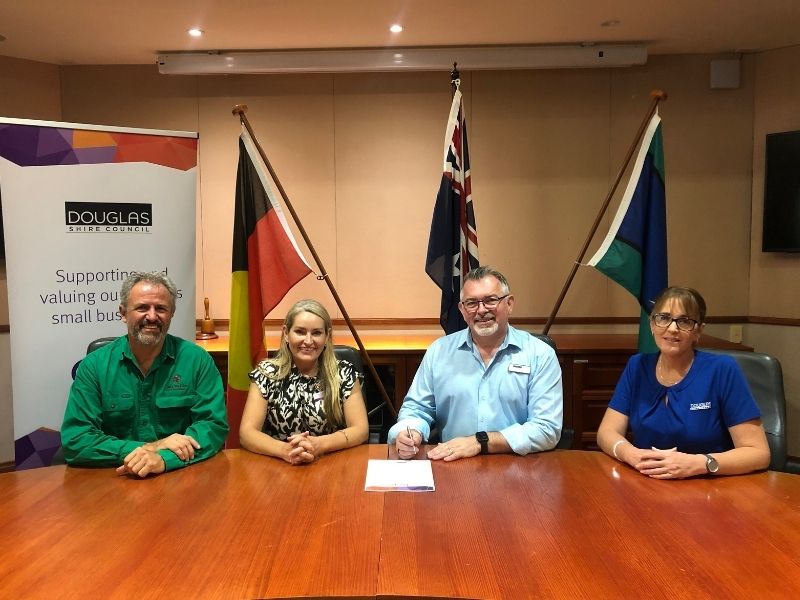 Douglas Chamber of Commerce's Jeremy Blockey, Small Business Commissioner Maree Adshead, Douglas Shire Mayor Michael Kerr and Douglas Shire Council Acting CEO Juanita Warner sign the Small Business Friendly Council charter.
Member for Cook Cynthia Lui said she welcomed the commitment from the Douglas and Mareeba Shire Councils.
"Small businesses are the engine room of these shires and it's important we support them any and every way we can," Ms Lui said.
"With these councils on board with SBFC, they can provide more tools to help our small businesses grow, and that ultimately means more jobs in our community."
Douglas Shire Council Mayor Michael Kerr said signing the Small Business Friendly Council Initiative was a great way to re-affirm Council's support for the local business sector.
"Now as a proud Small Business Friendly Council, we are excited to explore new and exciting outcomes for our amazing local businesses," Mayor Kerr said.
"As part of our Economic Development Strategy, the charter is a fantastic way for Council to guide our small business sector through its COVID recovery."
Mareeba Shire Mayor Angela Toppin said Council was excited to sign the Small Business Friendly Councils charter and pledge their support to their small business community.
"Small business plays an important role in our community and, as a Council, we do what we can to support and encourage them," Mayor Toppin said.
"Working cooperatively with other Councils who have also signed the Charter, we will ideally be able to identify additional ways we can support our vibrant local small business sector."
Queensland Small Business Commissioner Maree Adshead, who co-signed the SBFC Charters on Thursday, said the signing marks a commitment to a journey.
"The signing of this charter marks a commitment to putting small business needs and priorities more front of mind when making policy decisions, regulatory decisions and purchasing decisions," Ms Adshead said.
"I look forward to continuing to work with all concerned to bring real benefits to the local small business community in the Douglas Shire region."
The Commissioner said small businesses operating in other council areas are already benefiting from their council signing the charter.
"For example, local businesses in one of our small business friendly council regions were specifically considered and their needs accommodated, when council commenced construction in the town centre," Ms Adshead said.
"Being mindful of local small business needs when planning and making decisions is a great demonstration of what it means to be small business friendly.
"This is making it easier for small business to get on with business. Other councils are following this example with their own similar processes."
The SBFC charter has been developed by the Palaszczuk Government in conjunction with councils and aims to recognise and encourage the support of local councils to actively support small businesses to recover and build resilience following disaster and economic challenges.
There are currently 23 SBFCs across Queensland. When a council signs the SBFC charter they are pledging a commitment to:
communicate and engage
raise small businesses profile and capability
support resilience and recovery
simplify administration and regulation
ensure fair procurement and prompt payment terms
promote place-based activities.
Find out more about the Small Business Friendly Councils (SBFC) initiative at www.business.qld.gov.au/qsbc or by phoning 1300 312 344.