DOUGLAS locals have a new reason to refill their tackle boxes with the return of a popular fishing and croc-spotting platform at the Mowbray River.
The State Government today announced the $5.7 million project at the 'Mowbray North' section of the Wangetti Trail, featuring a 2.25km mangrove experience boardwalk and 5km walking trail to Four Mile Beach.
Douglas Shire Council has welcomed the game-changing investment, which will be owned by council when construction is completed.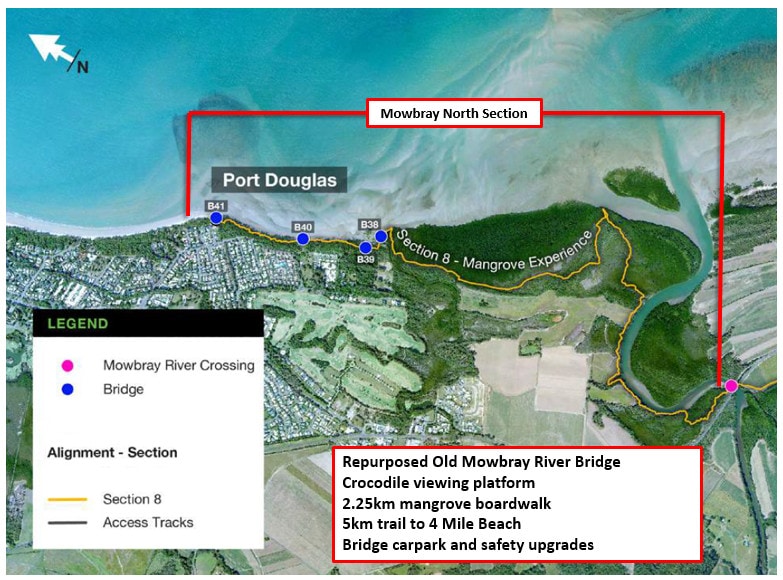 Mayor Julia Leu said tourists will fall in love with the new tourism precinct and locals will embrace the recreational injection.
"I know our local fishing enthusiasts will be absolutely ecstatic," she said.
"We all loved this little fishing area before the bridge had to be removed so it is fantastic to reel in some funding and bring back that special experience.
"This funding will transform the Mowbray Bridge safety issue into a day trip destination and hero wildlife experience starring our resident crocodiles that turns heads on a daily basis."
The Old Mowbray fishing jetty was removed in February 2016 after inspections revealed a risk of catastrophic failure due to damaged girders and very poor condition.
Council has worked with the community to advocate for safety upgrades and reinstate the jetty since then.
The Mowbray North project stretches from Port Douglas south to the Mowbray River with construction expected to start in September this year.
Council's calls for a visitors' carpark and safety upgrades to the Captain Cook Highway have also been answered in the funding announcement.
The 'Mowbray North' project is expected to have significant flow-on effects for the local economy, including creating 30 jobs, attracting 11,000 extra international visitors and pumping $6.1 million of overnight expenditure into Douglas Shire.
Mayor Leu said the game-changing project would give people yet another reason to visit one of the most iconic regions in the country.
"This has potential to become a really historic and treasured world-class attraction," she said.
"The trail will showcase the pristine beauty of the Wet Tropics and Great Barrier Reef, while embracing the Far North's coastal ruggedness and hinterlands."
A project working group created by Douglas Shire Council and Cairns Regional Council completed an interim feasibility report that helped secure the State Government commitment.
Project Details:
Repurposed Old Mowbray River Bridge
Visitors' carpark and safety upgrades to the Captain Cook Highway
Crocodile viewing platform
2.25 km mangrove experience boardwalk
5 km trail to Four Mile Beach and Flagstaff Hill
Indigenous business opportunities for construction, maintenance, guided walks and other activities
Follow below links for recent stories: