STAFF are taking responsibility of their food waste at the Mossman Administration Building.
Douglas Shire Council released 1000 worms into a sub-pod, an inground compost system and worm farm, to make better use of its food waste.
The new compost is part of Council's plan to dig in and inspire netter waste management habits across the region in 2022.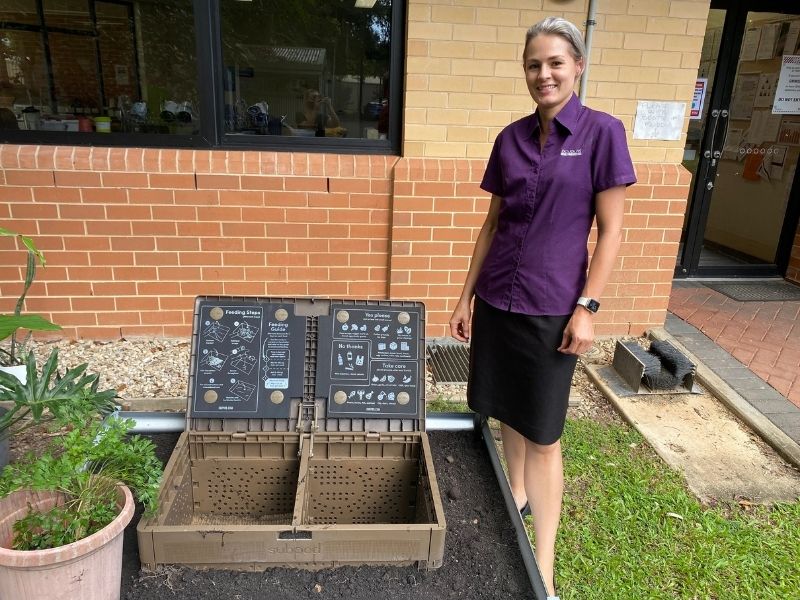 Waste Education Officer Abbey Hastie (above) said worm farms and composts were a fun way to manage your waste.
"The worms and microbes go to work, breaking down your food waste into compost," she said. "These are the type of little projects we can all do to instil better waste management habits into our families."
"You could also make your own using a bucket or tub, or simply buy a plain compost bin or worm farm."
"Council also continues to offer a free waste education sessions for local schools, kindergartens and community groups to learn about how we can all reduce waste."
Waste education sessions were presented to 175 kids across 10 kindergartens, schools and OSHS centre in 2021.
A Subpod is an in-ground compost system and worm farm. Compost worms and microbes live inside the Subpod and turn all the materials you feed them (food scraps, paper, coconut peat) into rich compost. Overtime, nutrients from the compost will feed your garden soil and help your plants thrive. Imagine all of this going on inside the raised garden bed, the actual Subpod is where we put the worms.
Book a Waste Education Session Today!
Council offers free "Know Your Waste" education sessions to primary schools and community organisations across Douglas Shire.
These interactive sessions provide an overview of how waste and recycling is managed in Douglas. They include discussion on where our waste and recycling goes, how we can reduce the amount of waste which ends up in landfill and how to recycle correctly.
Sessions can be tailored to focus on any waste related topics which are being discussed in the classroom and will run for approx. 45 mins – 1 hour.
Sessions are best suited to smaller groups, such as one class at a time (approx. 30 children) or other groups within the school such as the SRC or school leaders. Sessions can also be run for community groups and organisations. Through the sessions Council hopes to inspire change and better waste management habits and practises throughout the community.
Book Now!